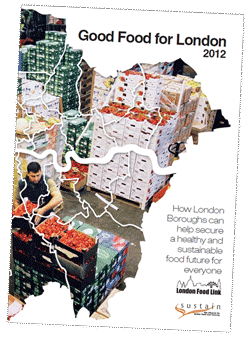 The Good Food for London 2012 report provides a league table of local authorities support for key good food initiatives, such as community food growing, high quality school food, helping local food outlets serve healthier food, and buying ethical food in schools and local authority canteens - including Fairtrade products, cage-free eggs and sustainable fish.
The Good Food for London 2012 report also illustrates London-wide progress on all of the six good food initiatives that we have tracked, presenting these on maps (thumbnails below). In many London boroughs, school-children are now receiving fresher, tastier and more sustainable food than last year, and tens of thousands of local residents have better access to green space for growing food. Borough support for farmers and local businesses has also improved, and there are early signs that several boroughs are doing their bit to create bee-friendly environments."
In a Good Food for London league table, Islington is named as 'Top Good Food Borough' and Merton as 'Most Improved Good Food Borough'. Eight more London boroughs out of a total of 33 received praise for their work to support good food, namely: Camden, Enfield, Greenwich, Havering, Richmond-upon-Thames, Sutton, Tower Hamlets and Waltham Forest. Havering was also highlighted as having shown leadership on good food buying, having helped other boroughs to buy good food affordably through collaborative buying contracts. The remaining boroughs had shown progress on one or more key food issue. Only the London Borough of Hillingdon did not appear to be taking significant action on good food issues.
---
The seven key food issues surveyed in the Good Food for London report, and for which maps of London Borough progress on good food action are presented are as follows: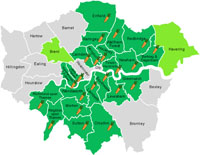 Community food growing: London Borough support for the Capital Growth campaign, backed by the Mayor of London, Sustain and the Big Lottery, that aims to create 2,012 new community food growing spaces for London by the end of 2012. Over 1,800 food growing spaces have already been created, many of which have been made possible by London Borough support, with 22 Boroughs signed up and two others making progress. See: www.capitalgrowth.org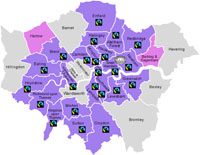 Fairtrade food: Fairtrade guarantees a better income for food producers in poor countries. London Boroughs can buy and promote Fairtrade food, to help tackle global poverty, and 23 out of London's 33 Boroughs now have Fairtrade status, making London the largest Fairtrade City in the world. See: www.fairtradelondon.org.uk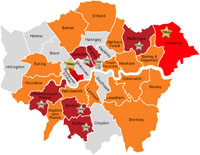 Food for Life in schools: The Food for Life Partnership helps schools improve food quality, education and introduce food growing, with proven benefits for children's health and educational attainment. The Food for Life Catering Mark works with caterers to improve food standards, and 23 London Boroughs so far have achieved a Bronze Catering Mark, with 2 impressively going on to achieve a Silver award: Havering and Kensington & Chelsea. See: www.soilassociation.org/cateringmark/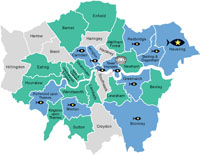 Sustainable Fish City: Twenty six London Boroughs have taken at least one significant action (Eleven have taken at least two) to help save marine life and ocean ecosystems. Action may include buying sustainable fish for Council meals and other publicly funded institutions, and running the Fish & Kids project (free of charge) to promote Marine Stewardship Council (MSC) certified sustainable fish in school catering. See: www.sustainablefishcity.net.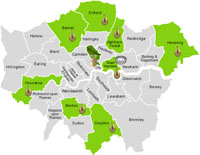 Good Farm Animal Welfare Awards: Run by Compassion in World Farming, these awards celebrate commitments by food companies and local authorities to buying higher welfare eggs, meat and dairy produce. Nine London Boroughs have achieved a Good Egg Award for using free range eggs, and one borough, Islington, being the first borough to receive a Good Chicken Award, adding to its existing Good Egg Award. See: www.compassioninfoodbusiness.com/awards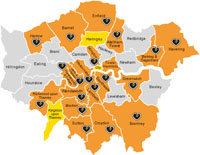 Healthier Catering Commitment: This initiative has been designed by environmental health teams in London Boroughs with support from primary care trusts (PCTs), the Chartered Institute of Environmental Health (CIEH) and the Greater London Authority. It offers practical advice to food outlets to make food healthier. The scheme is promoted by environmental health teams and PCTs, with 20 London Boroughs participating in this or something to a similar standard, and 3 other boroughs exploring participation, see: www.cieh.org/healthier-catering-commitment.html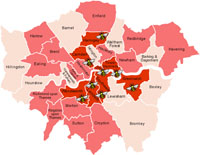 Bees and honey: Capital Bee is an initiative to help London become a bee-friendly environment, and is asking London's residents to help bees by growing some of their own food, planting bee-friendly plants; creating a bee-friendly garden, and buy something organic. London Boroughs can also help by making a public pledge not to use neonicotinoid pesticides (those known to be the , create forage-rich planting plans for public spaces, and to support community food growing and community bee-keeping. Because this is a relatively new initiative, boroughs are not yet scored on their involvement, and the pale pink boroughs indicate lack of data, not necessarily lack of progress. See: www.capitalbee.org
Information is also provided in the Good Food for London report on opportunities for London Boroughs to help: Improve health; Support farmers; Reduce food waste; Maintain school food standards; Save money by buying food collaboratively and helping residents do so too; Promote bakers and real bread; Reduce poverty; Build good food skills; Protect consumers; Promote local shops and markets; and promote good food through sensible planning.