Read the review of Sustain's activities and achievements for this financial year.
This document looks at the progress across Sustain's many projects and campaigns, structured around the four elements of Sustain's strategy 2015-2020, to:
Support better farming and food production
Increase sustainable food supply
Ensure good food is accessible and well promoted to all
Improve our food culture, education and skills
The document also includes Sustain's accounts for the year ended 31 March 2016.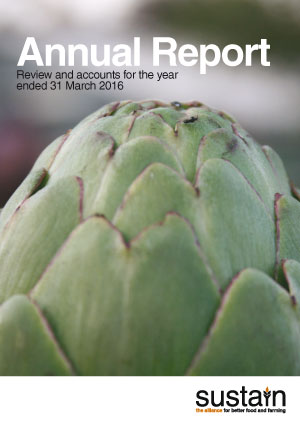 Annual report 2015/16
2016 - 32pp | 4406Kb
Published 16 Jan 2017
Sustain: Sustain The alliance for better food and farming advocates food and agriculture policies and practices that enhance the health and welfare of people and animals, improve the working and living environment, enrich society and culture and promote equity.