Fruit and veg on prescription pilot launched to tackle ill health and food poverty
Bridging the Gap partner, Alexandra Rose Charity, have launched the UK's first large-scale fruit and veg on prescription project in east and south London, in a bid to help tackle health inequality and food poverty.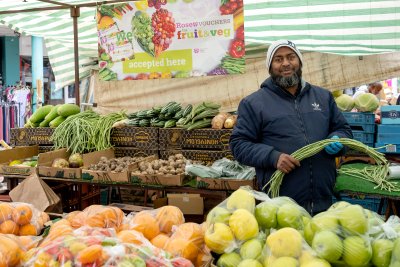 Market trader at Chrisp Street Market in Tower Hamlets. Credit: Alexandra Rose Charity
This innovative pilot has been launched in partnership with public health teams in the London boroughs of Tower Hamlets and Lambeth, as part of a £250,000 pilot funded by local authorities and charitable foundation Impact on Urban Health. It comes at a time of greatly increased need, as food prices continue to soar, and fresh food inflation has reached a record 13.3%.
Alexandra Rose Charity operates in eight locations across the UK, helping tackle diet related ill health, which costs the NHS billions each year. They do this through helping families on low incomes to buy fresh fruit and veg by providing Rose Vouchers to spend at local markets on fruit and veg. It is hoped that prescribing fruit and veg, using a social prescribing approach that considers a person's whole life situation, could further prevent premature death and significantly reduce healthcare costs.
The project will be delivered in partnership with the Bromley by Bow Centre in Tower Hamlets, one of the earliest pioneers of social prescribing, and by The Beacon Project in Lambeth. Professor Sir Sam Everington, a GP in Bromley by Bow, Chair of NHS Tower Hamlets Clinical Commissioning Group, and Vice President of the British Medical Association, thinks clinicians should embrace the prescription of fruit and veg.
"A healthy diet can often achieve far more than any medicines I can prescribe as a GP. Therefore, fruit and veg prescriptions are essential in reversing and preventing many illnesses." She continues "When I trained over 40 years ago, Type 2 Diabetes was a disease of the elderly. We are now seeing it in teenagers."
Trials in the boroughs, which both have high rates of chronic disease, will explore the viability of fruit and veg on prescription as a long-term solution to tackling diet-related ill health and food insecurity. Participants can spend their Rose Vouchers on the fruit and veg of their choice with local retailers and market traders.
"Fruit & Veg on Prescription is an idea whose time has come," said Jonathan Pauling, Chief Executive at Alexandra Rose Charity. "The cost-of-living crisis is worsening and exacerbating rising levels of diet-related ill health and food insecurity. When calories from unhealthy food are three times cheaper than healthy alternatives, it makes sense that people will prioritise being full rather than being healthy, but this only stores up problems for the future."
During the 12-month pilot, Rose Vouchers for Fruit and Veg will be distributed to a target group of 122 residents across both boroughs who are at risk of, or have, conditions such as high blood pressure, diabetes or mental health conditions and are struggling financially. Tower Hamlets currently has the highest poverty rate (39%), child poverty rate (56%) and income inequality of all London boroughs, while Lambeth also has a high rate of chronic disease and health inequality.
When the pilot is evaluated, it could be rolled out across the UK subject to funding. Sustain's Bridging the Gap programme will also be reviewing the work to see how this approach could help to bring people on a low income closer to affording nature and climate friendly foods. Sarah Williams, from Sustain added "We are really excited to see this sort of innovation coming from the public health teams and funders, to see how targeted subsidies can create better outcomes for health, and potentially also for climate and nature".
Find out more about Bridging the Gap.
What we're fighting for 2023
Support our charity
Donate to enhance the health and welfare of people, animals and the planet.