The 'Eel goes to...Berlin
What inspiration can the good food folk of London find from friends and neighbours outside the capital and, indeed, outside Britain? The Sustainable Food Story's Abi Glencross and Sadhbh Moore report from Germany.
From the outside, Hermann's Berlin, may look like a regular café but it's so much more, playing host to a creative group of thinkers working to improve the food system. They really do focus on veg-led, reductarian (less but better meat) and root-to-fruit cooking; choosing organic, Fairtrade and/or local produce wherever possible, with plenty of heritage grain dishes on the menu. With sustainability as a driving factor behind much of its work, the café organises workshops, events, talks, test kitchens and collaborations, dedicated to finding solutions to food industry challenges.
Described to us as 'the Borough Market of Berlin', Markthalle Neun bubbles with all sorts of fine foods; cheese, wine and delicatessen produce. It's also where you'll find small-scale farms selling their organic fruit and veg, and a wide range of mushrooms, sustainable seafood and pasture-fed meat and dairy, all GMO free. The market hosts talks and events, many with a food ethics focus, and every stall holder we met knew the provenance of their ingredients and stories of their suppliers.
Prinzessinnengarten is a higgledy-piggledy community garden built on wasteland from reused and upcycled materials. Inspired by urban gardening in Cuba, it grows all sorts of herbs and cut-and-come-again greens, mostly in raised beds made from stacked crates. Including a café and stall selling local produce and with Skip Gardenesque vibes, it's definitely a great inspiration.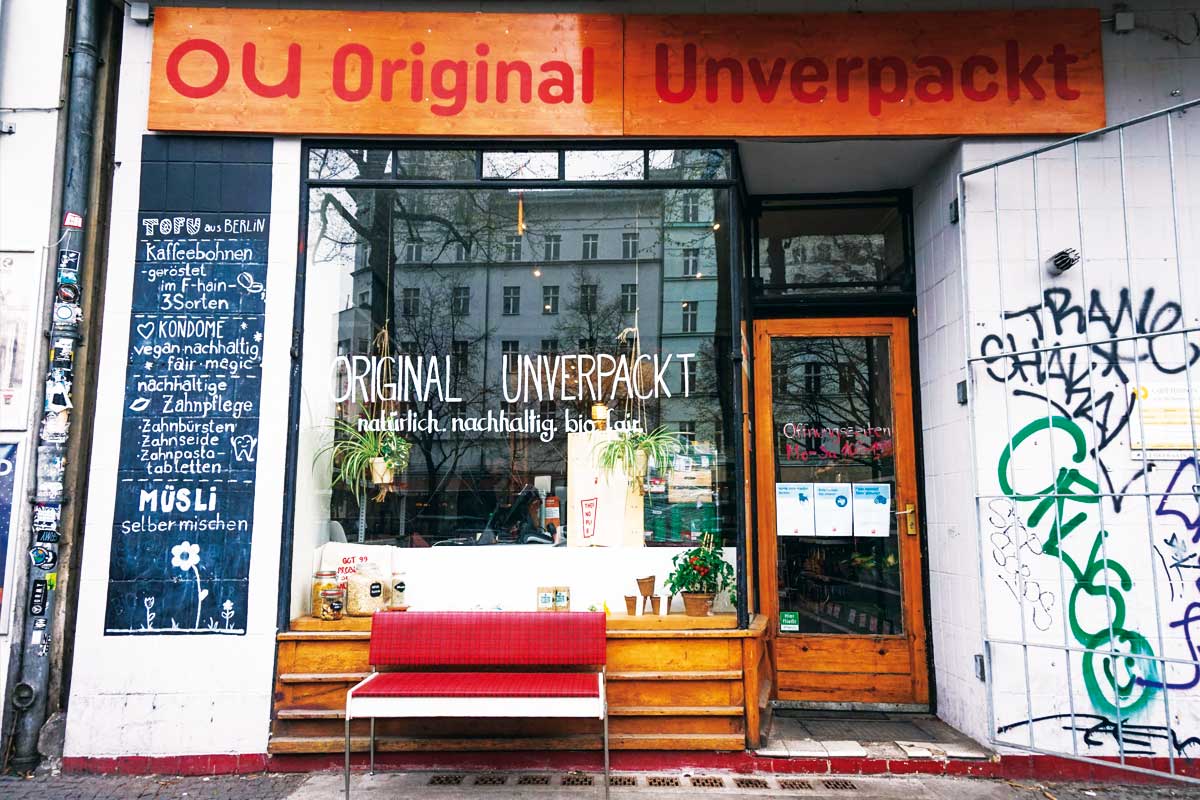 Original Unverpackt
Certified organic bakery Endorphina has a stall at Markthalle Neun and supplies Hermann's. We were so keen (and, in true Berlin fashion, still hadn't finished a night out) that we turned up to the bakery at dawn. We found their commitment to being fully organic as impressive as their bread's flavour and structure. Most loaves are sourdough rye and spelt and all are handmade, with "a conscious renouncement of mechanical production methods".
Since closing in 2008, Tempelhofer Feld has been used as a recreation area, which includes a community garden. Everything is grown in raised beds as food growers can't use the original soil of this former airport and military base. The garden is always open, so works on trust. When we visited last October, there were plenty of curly kale and nasturtiums still to be seen and, although produce is not for sale it's a great community space to visit and meet neighbours while digging in.
Original Unverpackt is a single-use-packaging-and-plastic-free supermarket alternative. Food citizens bring their own containers to refill from silos of pulses, nuts and grains, as well as buy lower-negative-impact necessities like organic groceries, cleaning products and toiletries. It is located in an area of Berlin that seems to be the ethics-ghetto, with a Fairtrade store, vegan restaurants and bicycle shops aplenty. Across the street is Jumbo Second Hand, which we are almost certain sells preowned clothes, rather than over-sized spare body parts...
---
www.endorphina.de
www.markthalleneun.de
www.original-unverpackt.de
www.prinzessinnengarten.net
www.hermanns.com/hermanns-berlin
www.thf-berlin.de/en
Read 'The 'Eel goes to... Liverpool' for insider tips on good food closer to home.
RELATED ARTICLES
NEWS