Crumpet voluntary*
Chris Young chatted with David Atherton at the Better Health Bakery, where the Great British Bake Off winner had volunteered.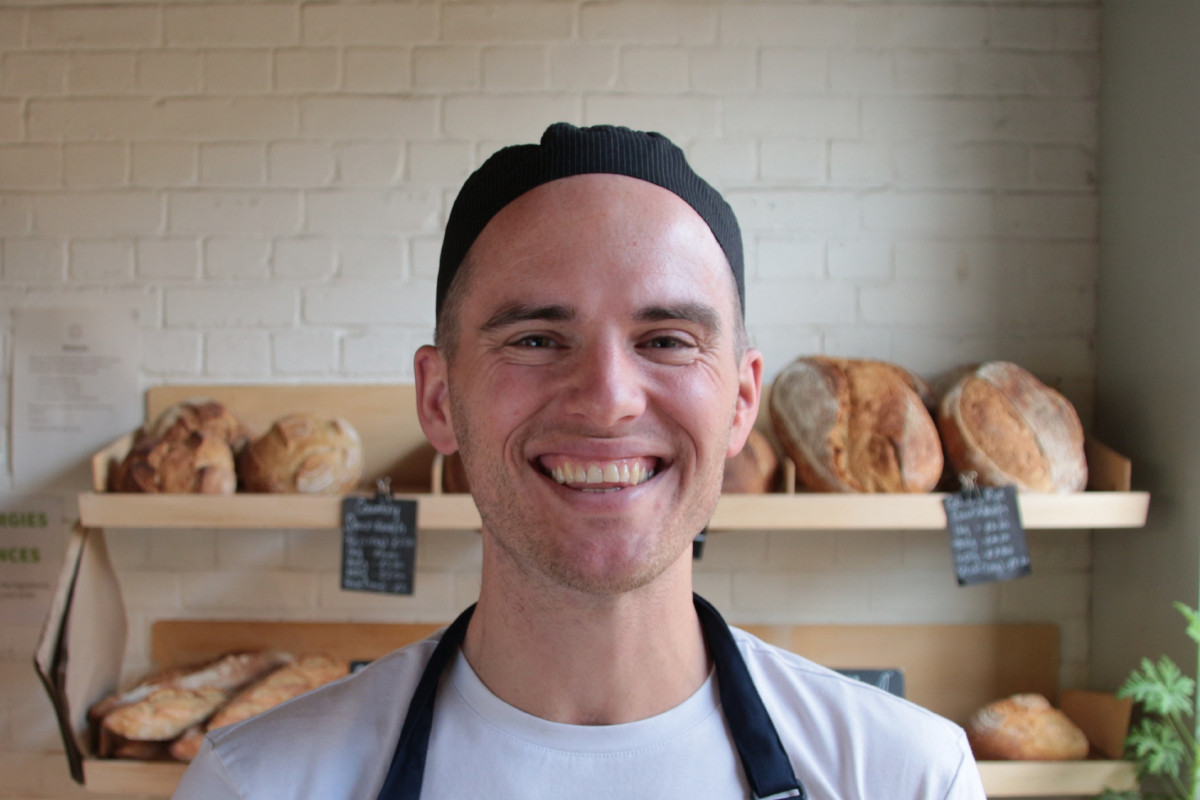 In November 2019, the Better Health Bakery invited me to meet David. He'd contacted them three months earlier to ask if, as a Great British Bake-Off contestant (this was before he could tell anyone about his victory), him talking about his year volunteering at the bakery might help to promote their great work.
I began by asking David how he'd first heard about the east London social enterprise, run by mental health charity the Centre for Better Health. "I work for Voluntary Service Overseas, and one of my colleagues and I talked about baking every day. We were best friends at work because we talked about baking. He lived in the area and started volunteering here for three months. During that he said 'come on down and get volunteering as well', so we did together for a year."
Why did he choose to volunteer? "I think everyone should be volunteering. Throughout my life I'm always looking for my next opportunity. There are so many organisations you can volunteer for, there are so many things you can do and while you do them you learn new skills yourself. For me this was one that came along at the perfect time."
Mindful living and baking
The bakery offers training placements to people recovering from mental ill health. I wonder if David had experienced any issues himself. "I think we've got to move away from just the medicalised aspects, because good mental health is important for every single person to be thinking about all of the time," he smiles. He suggests that being mindful of his own mental wellbeing, especially through sleep and exercise, might be factors in avoiding any major issues. "The other key thing for me is doing things you enjoy doing, things you think are important. I've been making bread since I was smaller than I remember and have always thought it's really important my mental health. It's very meditative but maybe the main thing is that you've accomplishing something."
Our chat moves onto what I call 'the alchemy of boring ingredients' and David says: "Yeast and flour - have you tried tasting them? Apart from water, all of the ingredients are disgusting if you try them on their own." Together, however, you can use them to create "this amazing bread you can share with people, I personally find that very helpful for my mental health." The charity's director Ashwin Matthews, who's at the table with us, agrees: "That's a huge part of it, isn't it? That sharing, that breaking of bread together, that's a fundamental aspect of it."
Sense of community
I asked David what the highs and lows of his time at the bakery in 2016-17 had been. "I mean, there were no lows. Genuinely there weren't. I couldn't have thought of a better way to spend Saturday. I think people think of a bakery as getting up at three o'clock in the morning but as volunteers, we were shaping sourdough for the long prove ready to be baked early the next morning. It was a nice cycle across London, to get here for ten o'clock."
"The thing I got out of it most was the sense of community. I loved the music, dancing around while we were doing it, chatting. You're not going to have a team come around to bake one loaf in your home. The professional baker and the staff, the volunteers have differing expertise in bread, and then the interaction with the trainees, I mean just, well, I loved it."
Were there any particular challenges or surprises? "Having never done things on such big scale, I think the pressure of it. Like when there's someone weighing out and just throwing these lumps of dough at you and you've got to quickly shape them and get them into the banneton. That was a challenge at first, but everyone's so friendly, so if you get behind it didn't matter. I think the speed helped me immensely with Bake Off."
Bread weeks
Every year GBBO's producers contact the Real Bread Campaign during their hunt for new contestants and every year I urge them to dedicate more than one episode per series to the world of bread. Does David agree?
"Yes. I know there's a lot of different baking that should be involved but, like you say, bread is so key. Being a bread lover, I would think you could have two or three weeks based around bread."
What about taking advantage of the fact that each episode is recorded over two days by setting sourdough bread, and other longer fermentation, challenges? "Yeah, because there's a lot of standing around, especially for a technical bake. I mean, why not? Obviously the show's edited, so you don't have to watch it rising. Why not a bake that takes 12 hours? I know the contestants would be up for it."
Mountains of buttercream
GBBO judge Prue Leith is a patron of Sustain, the charity that runs the Real Bread Campaign and also our Sugar Smart campaign. She's been quoted as saying that the show should put more emphasis on healthier baking challenges. David agrees: "I think that Bake Off is too much about mountains of buttercream with fluorescent colours. There should be more emphasis on healthier baking and the producers should be pushing that. I have to say that's where I got most of my trolling." Really? "Oh yeah. That first week I did a fruit cake with no fat, no one seemed to listen to the fact that the judges said it was almost perfect apart from the marzipan. It didn't lose any of its texture or flavour, and yet I had so much abuse on Twitter for even thinking about doing a cake without fat. There are so many things you can do with vegetables that can give you what you're looking for."
Talking about important things
I tell David that it's great to see him helping the bakery to raise the profile of their work. Does he plan to do more to promote enterprises and projects that help people facing a tougher time than most of us to benefit from baking? "Yeah, I'm up for it. People should get in touch if they want to. I'm in a privileged position to have a voice now, people didn't listen to me before, and so yeah, I want to talk about things that are important, not just endorse horrible products."
The interview over, David dons an apron and helps the morning shift to shape dough, and he tells me he's busy writing a cookbook for kids. Then, even though I said I wouldn't ask about Paul Hollywood, the GBBO judge comes up in conversation…but I've turned the recorder off by that point…
*I don't think that they make crumpets at the bakery but I couldn't think of a different bready/volunteering pun [CY]
---
SHARE