Stoneham Bakehouse
A social enterprise in Hove, founded by Simon Cobb after he left his teaching career due to depression and anxiety.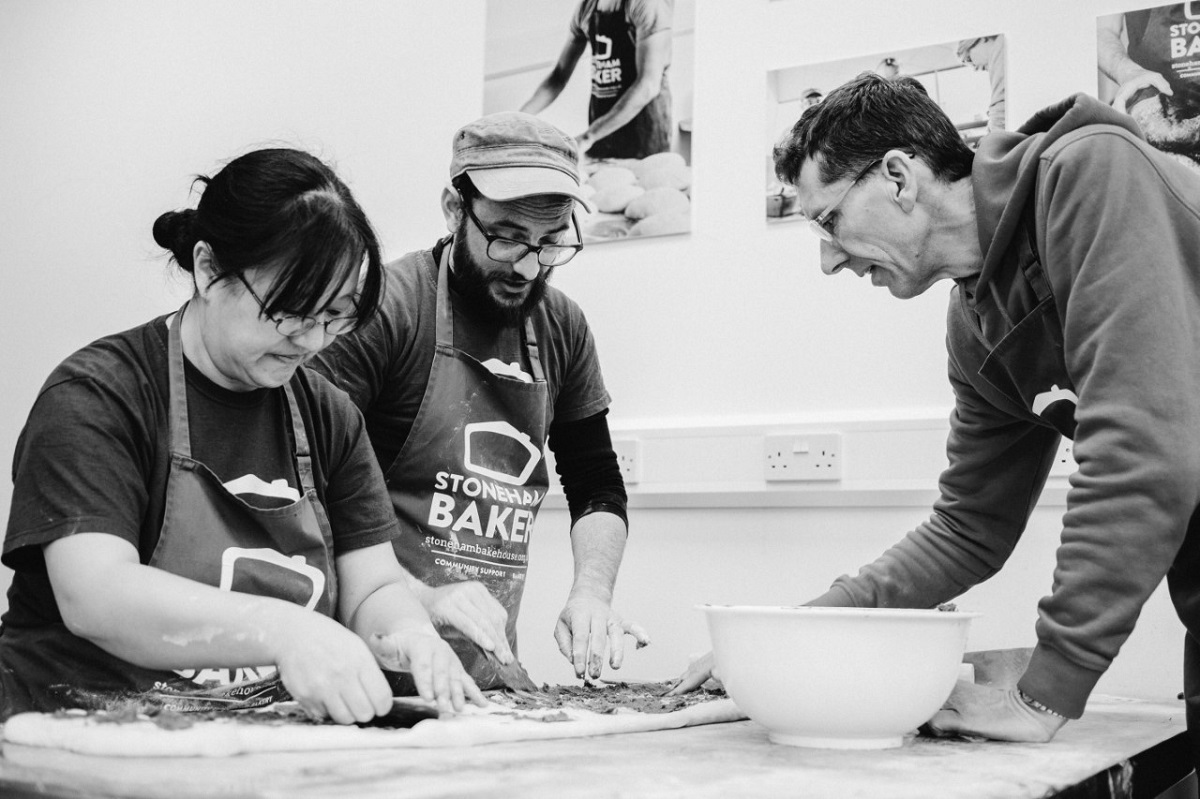 Stoneham Bakehouse is a Community Interest Company, which runs social and therapeutic baking sessions, and offers voluntary placements to budding bakers. Our main focus is using Real Bread making to support people's wellbeing.
We started our Community Supported Bakery back in 2014 with a group meeting in a local pizza takeaway to bake a few loaves. Gradually, we increased production to include baking in my own kitchen, as well as a local community café. This itinerant life, though romantic, was a logistical nightmare at times. In 2017, we ran a successful crowdfunding campaign, which enabled us to open a bakery in the heart of our community, right by the local park.
Community
Since then, the Bakehouse has established itself. We divide our week between the volunteer team baking bread for sale, and running bread making workshops. Income from bread sales and hobby baker classes help to fund our community-focused workshops.
So far, our community baking sessions have welcomed children from a local junior and special school, older people at risk of isolation, people claiming Employment and Support Allowance, young carers, young people affected by domestic abuse, and young adults with learning difficulties and disabilities. These sessions have an emphasis on wellbeing, and are often based around the New Economics Foundation's 5 Ways to Wellbeing*. In 2018-19, approximately 120 people benefitted from our community baking sessions.
Improved wellbeing
We assess the positive impact of our longer projects using questions inspired by the Warwick Edinburgh Mental Wellbeing Scale. While I feel that it's sometimes hard to get honest responses from some children, the overall results have shown that a high percentage of participants felt happier as a result of the sessions. 65% of the participants showed an increase in wellbeing scores, with 45% of them seeing their scores increase by more than 10%. Participants have also said that baking alongside other people had helped them to make new friends.
This ethos permeates all that we do, including our production baking with our volunteers. To date, more than 30 people have taken the opportunity to volunteer. Like our workshops, these baking days have strong social value. I see the volunteer bakers getting a lot out of the experience in terms of therapy, making social connections, being part of our local community.
*Connect, be active, take notice, keep learning, and give.
You can find out more, including how to get involved with and support Stoneham Bakehouse, at: www.stonehambakehouse.org.uk
---
Published in Real Bread Week 2020 as part of the Real Bread Campaign's Together We Rise initiative.
Please support the Campaign's work helping people to bake a better future, one loaf at a time:
---
SHARE