The Enterprising Orchards Creating Cider From Surplus
In celebration of the end of apple season, Rose Baldwin talks with Enterprise Manager Lizzie Pegler about The Orchard Project's blossoming cider production.
Three years ago The Orchard Project, a charity that promotes and restores orchards throughout the UK, began a new enterprise. Lizzie and the team had found all sorts of creative uses for the fruitful harvests however many apples were still going to waste as they just weren't suitable for cooking, baking or eating. Keen to find a creative way to close the loop, they focused on a solution. Cider!
So, with help from Heritage Lottery Funding, they started pressing the surplus apples from their London orchards to make their 'Local Fox' brew. To find out more, I chatted to Lizzie Pegler, the Orchard Project's Enterprise Manager, to get a sense of how it was going and what they have in store for the future.
An Im'press'ive Operation
Lizzie, brimming with energy and enthusiasm for the project, explains that cider production has turned out to be the perfect solution. To date, they've worked with over 1000 volunteers who have saved a huge 32.6 tonnes of apples that would have otherwise gone to waste.
"Here at the Orchard Project our Local Fox Cider and London Apple juice are made entirely from unsprayed surplus apples harvested and donated from community orchards and gardens across London."
Making cider and juice at The Orchard Project is a labour of love. The apples are harvested - and washed by hand, and then pressed in traditional rack-and-cloth presses by trained volunteers. Compared to most commercial cider brewers who don't even harvest their own apples, The Orchard Project's cider brewing is an impressive enterprise - taking surplus apples and the work of passionate volunteers to create an exceptionally local London product.
They've also hosted dozens of events to show people how to press apples and brew cider themselves. Teaching local communities by providing the tools and training, as well as handing out cider in exchange for apple donations.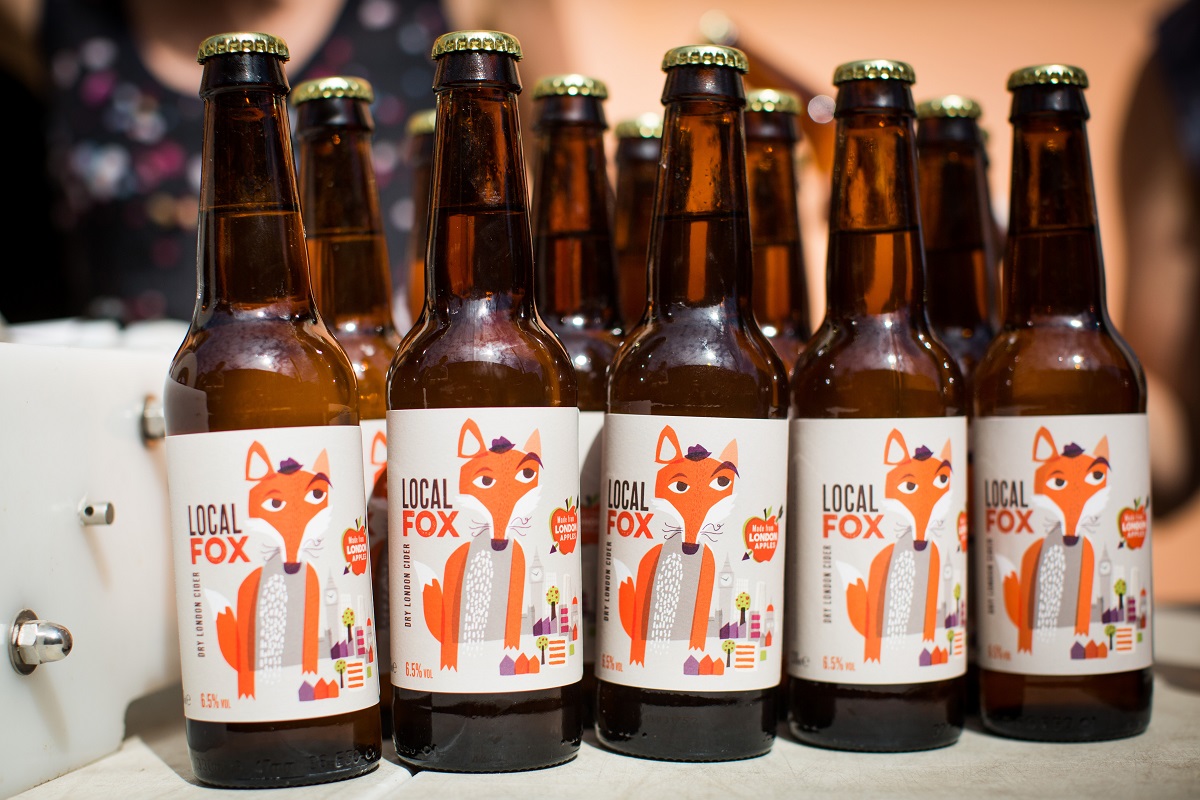 A Fruitful Future
Their first cider produced - Local Fox - has been met with great enthusiasm and Lizzie is eager to expand their selection. Alongside the cider brewing, they are also increasing their juice production to make their wonderful apple juice available to consumers.
Lizzie reports that The Orchard Project has taken a bold next step as a cider enterprise – to stop relying on grant funding. Instead, they are going to generate enough income to keep the project brewing. Last year, Local Fox Cider ran a successful crowdfunding campaign that allowed them to continue operations for the season, but their primary goal for the coming months is to scale up so that they can produce cider and juice from rescued apples long into the future.
Lizzie explains, ' As a way of scaling, we've started to source unwanted fruit from commercial supply chains - a win-win for conscious businesses and cider fans alike! We recently reduced over 11 tonnes of surplus apples - a traditional cider variety - from an orchard in Worcester.'
This new development will allow the Orchard Project to expand their product range and launch an exciting new traditional bittersweet cider in the New Year, that will be totally different from their iconic London brew. And London pubs and restaurants are in luck too, the new brew will also be available in a bag-in-box.
Read more about how the Orchard Project create and maintain their orchards here

Bag yourself a Bevvy
If you like the sound of sipping on some crisp apple juice or cider and supporting a community project, you can head down to Borough Market or check out out Farm Drop, Theatre of Wine, Hornbeam Cafe and plenty of other independent retailers. Plus keep your eyes peeled for their new brews in the coming months.
Get Your Hands Dirty
The Orchard Project runs loads of events, including pressing and picking days, and is always looking for volunteers. You can find links to their upcoming events here.
---
The Orchard Project: Growing Trees, Community and Biodiveristy
Find out more about growing food for mind body and soil
RELATED ARTICLES
NEWS