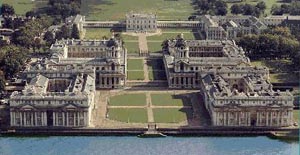 "We are proud to support to the Food Legacy campaign in serving local, healthy, ethical and sustainable food to our students, staff and visitors. This campaign compliments the University's commitment to sustainable initiatives and achievements (5th place in the Green League, and Bronze award Food for life Catering Mark)."
Barry Palmer, Head of Catering & Conference Services, University of Greenwich
The University of Greenwich offers courses in subjects as diverse as architecture, education, engineering and maritime management. The university has played a leadership role in adopting the principles of sustainable food and writing them into policy, and as a leading institution in a Host Borough for London 2012, is in an excellent position to champion this approach for the benefit of people and the planet.
The sustainable food policy states that the University aims to:
Increase sustainable food offerings in catering outlets and hospitality menus.
Communicate to customers, staff and suppliers our commitment to serving sustainable food.
Carry out sufficient monitoring of our sustainability targets and review our aims annually.
Ensure that sustainability specifications are included in future catering contracts and that sustainability criteria are used in the awarding of the contract, for example ISO14001.
Achieve Fairtrade University status, Food for Life Catering Mark, and support the Sustainable Fish City campaign.
To help meet these aims, the university will:
Develop performance indicators and evaluation criteria and use them to measure our progress.
Work with suppliers to progress the sustainability agenda.
Enhance staff, customer and supplier awareness of relevant environmental and social effects of a sustainable diet via promotional guidance, product information and awareness campaigns.
Examine the Sustainable Food Policy annually, amend targets and communicate findings (including progress and gaps) to customers.
Compile annual targets in order to monitor progress.
Work with third party organisations such as Sustain's "Good Food on a Public Plate" and the Soil Association's "Food for Life" catering mark.
Specifically, the University of Greenwich sets out sustainability specifications for its catering contracts, stating that they commit to:
Use demonstrably sustainable fish wherever possible. If this is not possible for certain species then alternative menu items will be sought.
Offer seasonal produce where possible and monitor the use of non-seasonal produce. Communicate clearly when seasonal produce is being served.
Use free-range eggs.
Support environmentally friendly farming, food/drink production and transportation. Communicate clearly what menu offerings are available and work towards increasing menu range where appropriate.
Use meat and dairy that is produced according to high animal welfare standards. Aim to serve less meat and dairy products and focus on fresh seasonal produce, ensuring all meat and dairy served is sustainably sourced.
Read the University of Greenwich Sustainable Food Policy
Find out more about the University of Greenwich at: www.gre.ac.uk
Share
Get updates
Food Legacy: The campaign, launched October 2011, is inspired by the London 2012 Food Vision adopted by the organisers of the London 2012 Olympic and Paralympic Games. Food Legacy asks caterers, restaurants, event organisers and hospitality organisations to commit publicly to taking steps to improve the healthiness, ethics and sustainability of the food they serve.
Menu
Support our charity
Donate to enhance the health and welfare of people, animals and the planet.