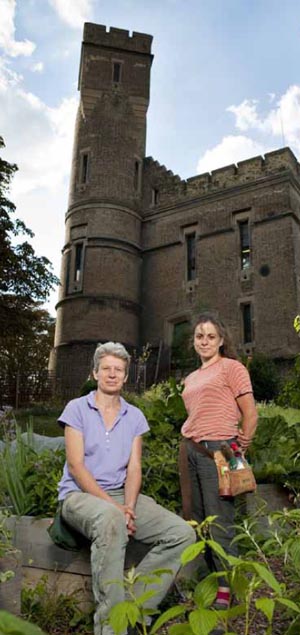 Growing Communities is a pioneering and successful community-led social enterprise in Hackney, which sells produce from local organic farmers through a popular box scheme, runs a farmers' market, and also operates a number of commerical growing sites in East London. These are being developed into an urban Patchwork Farm managed by a network of apprentice growers who receive an income from the food they grow. The sites are all smaller than an acre but coordinate their growing plans and combine their produce weekly to sell to the box scheme and other local outlets.
Growing Communities also runs an urban market gardening apprenticeship scheme to help local people learn growing skills, and operate a 'pay as you grow' trading system. The produce has a guaranteed market as it is bought by the box scheme. The sites specialise in growing salad, and in the height of the growing season the weekly amount created can total over 50 kilos. In 2011, there was so much salad grown by local people in Hackney, they started to sell the surplus to local restaurants, who have been highly complimentary about the quailty, flavour, freshness and variethy of leaves.
At The Castle Climbing Centre in Hackney, they have three food growing areas. One is a shared community garden for members of the local community, supported by the Capital Growth programme. The second is an area of private micro allotments. And the third is a 100m2 urban market garden that is one of Growing Communities' Patchwork Farms.
Ida Fabrizio and Sophie Verhagen (pictured left) who manage the site - which is certified organic - grow and sells a mixture of salad and herbs. Those that are surplus to the requirements of the Growing Communities box scheme are sold directly to a number of local restaurants. Ida sells to the Duke of Cambridge organic gastro pub in Islington. She picks the produce and packs it into reusable, sealable and labelled clear plastic bags, and delivers it by bicycle trailer once a week. Ida is paid cash on delivery, and the produce is washed at the restaurant by the kitchen porters.
The kitchen has a daily changing menu and skilled chefs can accommodate whatever is available in gluts or if any of the produce is slightly damaged. For example, slightly torn rocket can be used for pesto, or celery leaves can be a garnish or unusual addition to a salad. In fact it stimulates the chef into thinking creatively about the best way to serve certain items and creates a demand for new herbs that they have not used before.
The kitchen, led by head chef Sara Berg, is happy to receive a diverse and unusual selection of produce in small quantities that they are unable to get from their larger wholesale suppliers. They are also able to deal directly with Ida, who understands their requirements and can grow any particular items that they request. The restaurant has a local buying policy, so to be able to purchase salad that is grown three miles away is something they can promote and which their customers appreciate.
"This is some of the best salad that I have come across. It is so fresh and unusual in terms of the mixture of leaves. It's great to talk to Ida each week about what is going to be coming in"
Sara Berg, Head Chef, The Duke of Cambridge organic gastropub
Growing Communities employs over 20 local people part-time, paid for out of food sales from their box scheme and community trading model. The enterprise packs over 1,200 boxes each week and is an example of an urban food growing project that is a viable enterprise. The Growing Communities model is being tested to see if it can be adopted by other community groups across the UK through a mentoring and start-up programme.
Julie Brown, who set up Growing Communities explained that from her experience urban food growing on its own is not economically viable but can be if it is part of a wider trading model.
Each growing season, Growing Communities recruits between two and six new apprentices who go through a formal application and interview process to take part in the apprenticeship scheme for that growing season. Each apprentice commits about two working days a week and goes through a carefully planned training programme that aims for specific results. The apprentices cover all aspects of running a market garden including organic horticulture, crop rotation, selling produce and coordinating volunteers.
At the end of the scheme many of the apprentices go on to manage their own market garden, and the plan is for Growing Communities to make plots of land available to do so via the Patchwork Farm. The apprentice will grow an agreed amount of produce each week which they can sell to the box scheme. Any additional income they earn through direct sales to other buyers is theirs to keep.
This case study is an extract from the report A Growing Trade (free to download as a PDF), published in January 2012 by Local Action on Food as part of the Big Lottery funded Making Local Food Work programme. it is a practical guide for local communities, to help them grow food and become more financially independent through trading in fresh and local produce.
Find out more about Growing Communities:
http://www.growingcommunities.org/
If you are a restaurant or caterer interested in getting your hands on the very freshest ingredients from hyper-local community food growing sites in London, then get in contact with the Ethical Eats team. Contact: kelly@sustainweb.org or duncan@sustainweb.org; or call: 0203 5596 777.
Share
Get updates
Food Legacy: The campaign, launched October 2011, is inspired by the London 2012 Food Vision adopted by the organisers of the London 2012 Olympic and Paralympic Games. Food Legacy asks caterers, restaurants, event organisers and hospitality organisations to commit publicly to taking steps to improve the healthiness, ethics and sustainability of the food they serve.
Menu
Support our charity
Donate to enhance the health and welfare of people, animals and the planet.