The ethos of the Food Legacy programme reflects exactly what we aim to give our customers. We have to remember, 'We are what we eat!' and initiatives such as the Food Legacy programme raise the bar. Eden Caterers wholeheartedly support this approach."
Hugh Walker, Managing Director, Eden Caterers
For Eden Caterers, taking a healthy and sustainable approach to food comes naturally. It is woven in to the way they do catering, which they treat as a craft.
"We've always made most things ourselves," says Managing Director Hugh Walker. "Whether that's dressings, a finger buffet, cakes, soups, cordials or granola. This season we're going even further by making our own pear chutney, piccalilli, tomato chutney and horseradish cream."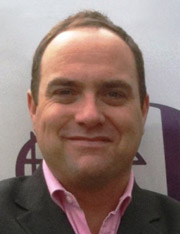 But why choose such labour-intensive methods? Nick Mead of Eden Caterers (pictured) explains, "We're able to use UK produce when in season (we even grew some of the tomatoes ourselves) and have full control over ingredients – not too much salt, no preservatives, colourings, E-numbers and most of all, of course, it tastes infinitely better!"
"We really have gone a bit mad over 'homemade. We now even have our own bees in the car park and will soon be using our very own honey as an ingredient." Eden Caterers have also been supportive of the Capital Bee campaign, an initiative as part of the Capital Growth campaign to create 2,012 community food-growing spaces in London by 2012. Capital Growth is a partnership initiative between London Food Link, the Mayor of London, and the Big Lottery's Local Food Fund. In support of the campaign to save the Capital's bees, Hugh and Nick are now beekeepers but virtually all staff from Eden Caterers are getting involved and helping with the care of the bees.
Eden Caterers have also recently taken the plunge and committed to using only UK produced meat and fish in their Express Menu, as well as UK-produced hard cheeses. They aim to support UK producers and reduce delivery miles, and also to focus on seasonally inspired menus.
Despite bottled water being a money-spinner for many caterers, Nick and Hugh are passionate about reducing waste. "Think of all those plastic bottles and all that trucking of water around the country and in some cases the world!" says Hugh. "Ever tried fully filtered and chilled tap water? You'd be hard pushed to tell it apart from Spring or Mineral water." Eden Caterers have therefore teamed up with the Tapwater.org initiative and have invested in equipment to filter, chill and carbonate water, to be supplied in smart, re-useable Stainless Steel "Bottles for Life" - still and fizzy. They call it "Smart, sustainable drinking water" and all staff are encouraged to get in the habit of using their own bottles to fill up as they wish from the new filter machines.
Share
Get updates
Food Legacy: The campaign, launched October 2011, is inspired by the London 2012 Food Vision adopted by the organisers of the London 2012 Olympic and Paralympic Games. Food Legacy asks caterers, restaurants, event organisers and hospitality organisations to commit publicly to taking steps to improve the healthiness, ethics and sustainability of the food they serve.
Menu
Support our charity
Donate to enhance the health and welfare of people, animals and the planet.