East London charity tackles health issues and deprivation through the innovative new Central Street Cookery School
Central Street Cookery School is a new learning facility within the recently renovated St Luke's Centre in the heart of EC1, East London. This is a brand-new charity-run cookery school whose aims are to provide an affordable facility for the whole community to cook together, to learn about health through food and cooking and to gain essential skills for life.
The purpose-built cookery school comprises eight individual kitchen settings (including one fully wheelchair accessible), with indoor and al-fresco dining spaces adjacent to the school's urban food growing area, making the school also an attractive venue to host all kinds of events.
The Cenral Street Cookery School is run by a well-established neighbourhood charity that believes cooking and eating good food is at the centre of building stronger communities. They already have many strong links with local people with food interests including food growers, Whitecross Street Market food stallholders, local restaurants and hotels.
EC1 is one of the most deprived areas in London with many associated social problems. Average annual household income is just £12,000 per year, and child poverty levels are in the worst one per cent in the UK. The rise in obesity, and the health and social problems it can cause, especially among young children, are experienced chronically in this part of London. Such health problems tend to be worse in disadvantaged areas due to the absence of facilities and resources. The Central Street Cookery School aims to tackle these problems by delivering courses that focus on healthy eating and on food budgeting.
To raise sufficient money to fund the School's charitable aims, Central Street Cookery School will also hire out its state-of-the-art facilities The money from corporate and private bookings will help fund cookery courses with the local EC1 community in mind. and the School suggests that these would be suitable for team building exercises, product launches and idea generation days. The School also has brand-new meeting and conference rooms to hire.
The Central Street Cookery School says: "We aim to bring the joys and benefits of learning to cook to families and people of all ages, backgrounds, incomes and abilities. All in all, Central Street Cookery School is a very exciting place to learn cookery. Your money will go towards helping tackling diverse issues such as improving health, boosting confidence, and contributing towards local employment."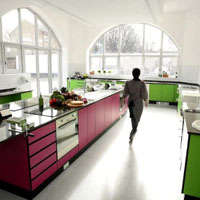 Other aims of the cookery school, to help the community, include working to:
offer classes for primary school children without cooking facilities in their school
provide those with diet related health problems with a platform for learning skills for a healthy diet and teach recipes to gain health
run inter-generational, multi-faith and national food culture classes to build community cohesion
help local people seeking employment by providing an accredited cookery course
Impressively, the Central Street Cookery School is also aiming to make their operations as ethical and sustainable as possible and says, "We are selecting our suppliers carefully. For instance, we are establishing links with local growers in order to encourage urban agriculture and we will also have our own food growing space and bee hives. We are also part of the Food Legacy Pledge programme."
For more information please contact Sofia Craxton on 020 7549 8176 or e-mail: sofia@slpt.org.uk or visit the Central Cookery School website at: www.centralstreet.org
Share
Get updates
Food Legacy: The campaign, launched October 2011, is inspired by the London 2012 Food Vision adopted by the organisers of the London 2012 Olympic and Paralympic Games. Food Legacy asks caterers, restaurants, event organisers and hospitality organisations to commit publicly to taking steps to improve the healthiness, ethics and sustainability of the food they serve.
Menu
Support our charity
Donate to enhance the health and welfare of people, animals and the planet.