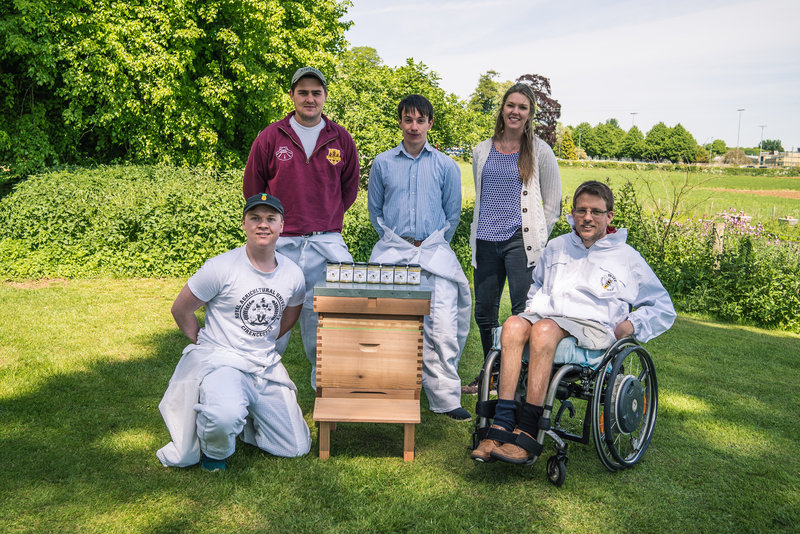 Photo credit: Royal Agricultural University
RAU Honey is a sustainable honey enterprise run by students at the Royal Agricultural University in Cirencester. It launched by a group of students from the Environmental Society, who have been attending beekeeping training prior to setting up the campus beehive. The small batch honey, available for sale to students and staff, is produced by bees enjoying the local meadows and wildflower fields.
Students have worked together to design the brand, compile labels that meet food standards legislation, train for food hygiene certificates and organise marketing and professional photography for RAU Honey. In preparation for the holiday season, they reached out to a local beekeeper for support looking after the hives.
There are exciting plans for RAU Honey to become part of a taught module at the university: Level 2 entrepreneurship, intrapreneurship and enterprise development. It will also hopefully be included in Fundamentals of Marketing and Retailing. Students taking these modules will then manage all aspects of running RAU Honey, using it to learn how to develop a successful and sustainable business model.
Sheep farmer. Credit: Cottonbro | Pexels
Share
Get updates
Food co-ops: Building a network of community food co-ops and food buying groups across the UK to help new groups get off the ground and existing groups to thrive.
Menu
Support our charity
Your donation will help us support communities to set up and run food coops and buying groups across the UK to improve access to healthy food.