Back to news list
Defra signs up to Sustainable Fish City
15/11/2011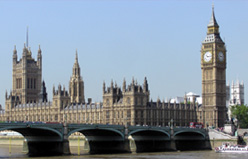 In June 2011, the UK government announced a new mandatory policy of using only sustainable fish in its catering for Central Government in England. The government has adopted the same definition of sustainable seafood as we have used for Sustainable Fish City and as for the London 2012 Olympic and Paralympic Games catering.
This policy now covers all catering for Number 10, Whitehall, Central Government departments, prisons, and some parts of the armed forces - greatly improving the sustainability of fish served in meals to around 400,000 people per year. Minister of State for Agriculture and Food Jim Paice MP commented "we are sending out a clear message to the wider public sector to take the same action".
Jon Walker, coordinator of the Sustainable Fish City campaign said: "This is good news for fish and precious marine environments, and good news for sustaining decent livelihoods in the fishing industry. Hundreds of thousands of citizens have demonstrated their concern about declining fish stocks through high-profile campaigns such as Hugh Fearnley-Whittingstall's Fish Fight. We're delighted that Government has put its own house in order and opted to buy only sustainable fish.". [read government announcement...]

In November 2011, the UK Department for the Environment, Food and Rural Affairs has signed up to the Sustainable Fish City pledge, confirming their commitment to serving only sustainable fish in food served in Defra canteens and at events. This was followed by the UK's House of Commons also signed up to the Sustainable Fish City pledge, confirming their commitment to serving only sustainable fish in food served to MPs and their visitors at the Houses of Parliament.
London leadership
The action by national government mirrors leadership by London's city authorities. In December 2010, the London Mayor's food advisor Rosie Boycott announced that the Greater London Authority Group (GLA Group) would commit to using healthy and sustainable food for catering provided to the London Metropolitan Police, Transport for London, the London Fire Brigade and the GLA's own staff and events at City Hall. Together, these reportedly consume more than 10 million meals a year. The commitment includes a promise to use only sustainable fish, adopting the same definition as used by Sustainable Fish City and the London 2012 Olympic and Paralympic Games. [read press release...]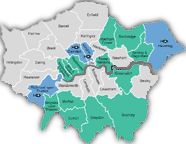 The Good Food for London report, published November 2011, praised four London Boroughs – Camden, Havering, Islington and Richmond-upon-Thames – for "leadership on sustainable fish". The report audited action taken by London Boroughs to promote healthy and sustainable food, and showed that these boroughs buy sustainable fish for school meals, and promote Marine Stewardship Council (MSC) certified sustainable fish to school children through the MSC's Fish and Kids project. A further 13 London Boroughs out of the total of 33 were praised for "taking at least one significant step to support sustainable fish".
Unfortunately, the remaining 16 Boroughs did not appear to be taking any significant steps to buy or promote sustainable fish.