Sustainable Fish City
---

Back to news list
New seafood sustainability guide published
05/05/2011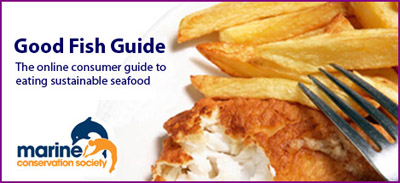 Make the right fish choices with the Marine Conservation Society's new and simplified seafood sustainability guide.
A new online consumer guide to sustainable seafood was launched in May 2011. The Good Fish Guide at www.goodfishguide.org.uk gives straightforward advice and cooking recipe ideas to make buying sustainable and varied seafood much simpler. The MCS Pocket Good Fish Guide has also been updated and now includes a credit card-sized guide to buying fish including top buying tips and questions to ask the fishmonger or at the fish counter.
Quick and easy to use search tool
One of the most useful features of the new Good Fish Guide website is the 'Find a Fish' search tool. You can search for the most commonly found fish, check their average rating and either find a sustainable alternative, or try www.fishonline.org for the best option for your fish. The new consumer-friendly rating system makes it easy quickly to identify species that are considered to be sustainably produced, and those species which are not.
---

Sustainable Fish City is a Sustain campaign