Back to news list
First pictures: Sustainable fish on London 2012 menus
23/07/2012
First pictures: Sustainable fish features on London 2012 menus. The printed menus include the Marine Stewardship Council logo to demonstrate to millions of Olympic visitors that the fish they eat comes from sustainable marine sources - a first for any Olympic or Paralympic Games!
The pictures on this page were taken on a visit to a Technical Rehearsal of the London 2012 Opening Ceremony, which took place on 23 July, 2012. Click on the picture on the left to see a close-up view.
The Sustainable Fish City team has worked with the London 2012 organisers (LOCOG) since 2009 to help them implement a fully sustainable fish policy. Throughout, we have also advocated high-profile communication of London 2012's commitment to sustainable food, including fish, to let the public know more about what they are eating. The London 2012 organisers, LOCOG – together with the London 2012 sponsor that has rights over the designs for the public-facing menus for the Games, Coca-Cola GB – agreed to include information about some of the ethical and environmental standards for London 2012 Games catering.

"This is an important precedent and legacy in its own right, as assurance schemes are non-commercial, and therefore have the prospect of being permitted for display at future sponsored events, including future Olympic and Paralympic Games," said Kath Dalmeny of Sustain, a member of the London 2012 Food Advisory Group who chaired the sustainable fish working party that devised the London 2012 sustainable fish standard. "This will provide tremendous opportunities to promote the verifiable ethical and sustainability credentials of food, without competing with sponsor interests."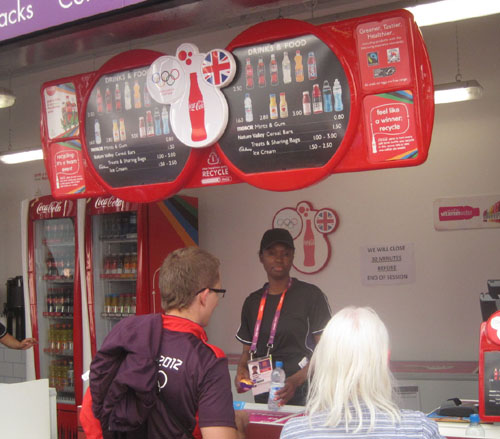 The red panel on the top-right of the menu is displayed on the majority of the public-facing menus for the London 2012 Olympic and Paralympic Games. It highlights three of the assurance schemes that appear in the baseline standards for food as part of the London 2012 Food Vision – Fairtrade, Red Tractor Farm Assured, and Marine Stewardship Council (MSC). In addition, the panel highlights London 2012's commitment to using free-range eggs (for all except liquid egg ingredients, due to lack of availability).
A high proportion of RSPCA Freedom Food chicken and pork has also been used in menus for many London 2012 venues (e.g. Athlete's Village and the Media Centre), but not for all, so the logo does not appear in this panel. But these impressive animal welfare achievements are worth noting nonetheless.