News
Feast on the Bridge will toast the Thames and all who swim in her!
19/07/2011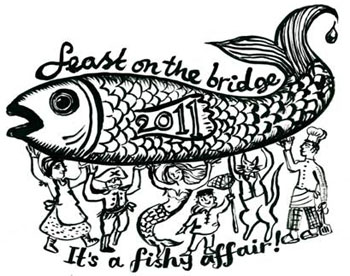 The theme of this year's Feast on the Bridge will be sustainable fish.
Feast on the Bridge is a free, communal dining event that brings people together to share a harvest meal, to eat, drink, talk and dance on the spectacular setting of Southwark Bridge as part of the Thames Festival.
This year it will take place on Saturday 10th September and the theme is fish. The event will celebrate sustainable fish with debates, stalls, sea shanties, cycle-powered cinema screenings, games, a four metre 'fish' cake, mullet hair cuts and a 'one that got a way' photo booth.
The team will be serving up American Signal Crayfish from the River Thames and Fish & Chips using unloved varieties of fish and un-cherished chips. In the evening diners will be invited to the Feast on the Bridge restaurant for a special meal highlighting the issue of discard fish. As the sun sets there will be a mass toast to the Thames and all that swim in her.
The Mayor's Thames Festival is supported by its principal partner Barclaycard and its principal supporters Arts Council England and the Mayor of London. Feast on the Bridge is supported by the London Food Board.
The Mayor's Thames Festival team launched this year's Feast on the Bridge on 19th July at City Hall. The event was hosted by Rosie Boycott, Chair of the London Food Board. There was a kedgeree breakfast made using sustainably-sourced fish and a chance to hear all about plans for Feast on the Bridge. Jon Walker from the Sustainable Fish City campaign also spoke at the event, welcoming this opportunity to celebrate sustainable fish.
Contact: The Mayor's Thames Festival, Mallside, The Bargehouse, Oxo Tower Wharf, London, SE1 9PP. Tel: 020 7928 8998. See the Thames Festival website at: www.thamesfestival.org
Rosie Boycott, London Food Board

"Taking a sustainable approach to fish is critical to the food security of our city. It is shocking to think that within our lifetimes, we could lose some of our favourite species from the seas forever."