Back to news list
Sustainable fish on the menu from caterers that serve over 40 million meals a year
13/07/2011
Leading caterers BaxterStorey, [1] Caterlink [2] and Holroyd Howe Independent [3] have demonstrated their commitment to sustainable fish sourcing this week. The caterers, all part of Westbury Street Holdings (WSH), the owner of some of the UK's leading catering and hospitality companies, have all signed up to Sustainable Fish City [4]. This will involve the active promotion of sustainable fish, by becoming certified [5] to sell Marine Stewardship Council certified fish (something Caterlink has already achieved) and options to move away from over-utilised species such as fresh cod, haddock and tuna.
Sustainable Fish City is the campaign to turn London into the world's first city where businesses, hospitals, universities, schools and citizens all eat sustainable fish. Today's commitment by the three companies include helping to protect fish and conserve precious marine environments through adopting a sustainable fish buying policy and communicating marine conservation messages to their tens of thousands of customers throughout the UK.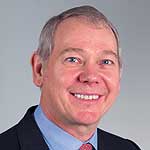 Commenting, Alastair Storey, Chairman and Chief Executive of WSH (pictured. left) said: "We are delighted to sign up to the Sustainable Fish City pledge. Caring about ethical sourcing, good husbandry and quality fresh ingredients has been at the heart of our business since it was founded in 2000. Through our actions today we hope that we will have a positive impact in spreading the message of sustainable seafood through the millions of meals we serve each year."
Rosie Boycott, chair of the London Food Board [6], who backed the Sustainable Fish City campaign for its launch in January 2011 said: "Every day BaxterStorey, Caterlink and Holroyd Howe Independent feed tens of thousands of people who work, study and play in our capital. I'm delighted to hear that such an influential caterer has made a commitment to Sustainable Fish City. This is good for fish, good for customers, and good for fishing communities. It is an exemplary case of a business behaving responsibly on the crucial issue of the impact we have on the world's fish stocks every time we eat a meal or sandwich containing fish. I hope that many more caterers will make the same commitment to help protect the oceans."
Jon Walker, coordinator of the Sustainable Fish City campaign, commented, "This is an exciting commitment from one of the country's top caterers. Over half the fish we eat in the UK is eaten outside the home, so chefs and catering businesses have a critical role to play in helping to protect our oceans. The solutions are available. Well done to all three companies!"
The Sustainable Fish City pledge, was drawn up by Sustain: the alliance for food and farming, in consultation with a group of leading conservation groups and industry bodies, to help the organisers of London 2012 mandate that only sustainable fish will be served at the London 2012 Olympic and Paralympic Games.
The Sustainable Fish City pledge commits BaxterStorey, Caterlink and Holroyd Howe Independent to:
Avoid the worst: Removing endangered species from menus and catering – those rated as 'fish to avoid' by the Marine Conservation Society: www.fishonline.org/advice/avoid/
Promote the best: Serving sustainably managed fish – Marine Stewardship Council (MSC) certified fish, and those rated as 'fish to eat' by the Marine Conservation Society: www.fishonline.org/advice/eat/
Improve the rest: Telling suppliers they want to serve only sustainable fish – and that there are organisations that can help them to do this, such as Good Catch: www.goodcatch.org.uk and the MSC: www.msc.org
David Parker, Fisheries Officer at the Marine Conservation Society [7] commented: "The Marine Conservation Society is pleased that BaxterStorey, Caterlink and Holroyd Howe Independent have confirmed their Sustainable Fish City pledge. By removing fish stocks from the Marine Conservation Society 'fish to avoid' list, these companies are helping to reduce demand for over-exploited fish from poorly managed fisheries. This is a crucial step towards the recovery of marine fisheries and future sustainable exploitation."
---
Notes to editors