London Boroughs show "big improvement" on sustainable fish, with Havering taking the lead
12/09/2012
The Good Food for London 2012 report, published today [1], praises eleven London Boroughs for "leadership on sustainable fish" [2]. The London Borough of Havering received special praise for buying sustainable fish for its catering, whilst also helping other boroughs and London institutions buy sustainable fish affordably through large-scale collaborative contracts. In 2011, when the audit was first undertaken, only four boroughs were showing leadership.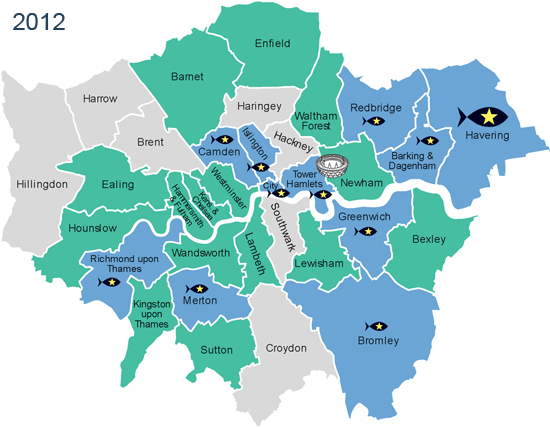 | | |
| --- | --- |
| | Borough taking at least two significant steps to support sustainable fish (note: the London Borough of Havering is highlighted as a 'big fish' for helping other London Boroughs buy sustainable fish affordably through large-scale collaborative contracts). |
| | Borough taking one significant step to support sustainable fish |
| | Borough taking none of the significant action below on sustainable fish* |
| | Olympic Gold: The London 2012 organisers used only demonstrably sustainable wild-caught fish in catering for the 14 million meals served at the Olympic & Paralympic Games |
* Let us know if things have improved in your borough. We will update the map as more action is taken
"The Good Food for London 2012 report shows a huge improvement on London Boroughs buying fish from sustainable sources to feed local schoolchildren, care home residents and council employees," said Jon Walker, coordinator of the Sustainable Fish City campaign that aims for all fish bought and eaten in London to be from sustainable sources [3]. "Surveys indicate that the majority of Londoners care deeply about the future of fish and precious marine life. So London Boroughs are well placed to make a significant difference with their fish-buying policies. It is inspiring to see that over two-thirds of London Boroughs are already taking at least some action, but there is still a long way to go. Education Secretary Michael Gove MP has recently commissioned a review of school food standards, and these standards must include sustainable fish. The Coalition Government has already made sustainable fish standards mandatory for food served to prisoners, soldiers and MPs – so why not schoolchildren?" [4]
The 2012 report, which audits action taken by London Boroughs to promote healthy and sustainable food, shows that eleven London Boroughs buy sustainable fish for school meals, and promote Marine Stewardship Council (MSC) certified sustainable fish to school children through the MSC's Fish and Kids project [5]. This helps to preserve and protect precious fish stocks for future generations to enjoy. A further 15 London Boroughs out of the total of 33 were praised for "taking at least one significant step to support sustainable fish" [6]. Unfortunately, the remaining 7 boroughs (Brent, Croydon, Hackney, Haringey, Harrow, Hillingdon and Southwark) did not appear to be taking any significant steps to buy or promote sustainable fish [7].
"Over the 2012 summer, London welcomed millions of people to enjoy the London 2012 Olympic and Paralympic Games. Those attending sporting events were served up only sustainable wild-caught fish, thanks to the Games organisers insisting on only the highest environmental standards," said Kath Dalmeny, who worked with marine conservation organisations to help the London 2012 Olympic and Paralympic Games organisers adopt their fully sustainable fish policy [8]. "We call on all London Boroughs to serve only sustainable fish, as a fantastic legacy from the London 2012 Games. Fish stocks can recover if they are managed sustainably and if major fish buyers such as London Boroughs buy only verifiably sustainable fish. London Boroughs pledging to use sustainable fish would be a clear signal to fishermen that their investment in sustainable fishing methods is worthwhile, to promote good fishing livelihoods for years to come."
We estimate that at least £1.35m of sustainable fish is now being bought each year by London Boroughs.
The Sustainable Fish City campaign is calling on London Boroughs to stop serving endangered fish, promote the best of sustainable fish (including MSC certified fish, particularly in schools), and to work with their suppliers to improve the rest. These principles have already been adopted by caterers that together serve well over 100 million meals a year, inspired by the London 2012 Food Vision [9].

Download a PDF version of Good Food for London 2012 - London Borough maps of progress on healthy and sustainable food
---
Notes to editors
The Good Food for London report is published by London Food Link (www.londonfoodlink.org, a project of Sustain, the alliance for better food and farming), a network of people and organisations working to promote healthy and sustainable food for London, with support from independent organisations that promote healthy and sustainable food, members of the London Food Board and the Chair of the London Food Board, Rosie Boycott. The Good Food for London report can be downloaded at www.sustainweb.org/londonfoodlink/good_food_for_london/. A high-resolution copy of the map is available for reproduction in print media (contact Jon Walker, fish@sustainweb.org, tel: 020 7065 0902).
The eleven London Boroughs showing "leadership on sustainable fish" (marked as blue, with a fish icon on the map below) are Barking & Dagenham, Bromley, Camden, City of London, Greenwich, Havering, Islington, Merton, Tower Hamlets, Redbridge, Richmond-upon-Thames. Havering is highlighted as a 'big fish' for helping other London Boroughs to buy sustainable fish affordably through collaborative contracts.
See the Sustainable Fish City website at: www.sustainablefishcity.net. The Sustainable Fish City campaign is calling on London Boroughs to pledge to stop serving endangered fish, promote the best of sustainable fish (including MSC certified fish), and work with their suppliers to improve the rest. These principles were adopted by the London 2012 Olympic and Paralympic Games for the 14 million meals to be served at the Games. With the support of Sustainable Fish City, many more organisations have joined in, with pledges from Whitehall, government departments, the Greater London Authority, London Metropolitan Police, Transport for London, the London Fire Brigade and City Hall, as well as 19 top universities (with over 200,000 students and staff), the National Trust, Sealife London Aquarium, major employers such as British Airways and Coca-Cola GB, numerous leading restaurants and chains, some of the biggest caterers in the UK, and several smaller ones, together serving well over 100 million meals a year.
Secretary of State for Education, Michael Gove MP, commissioned a review of school meal standards in July 2012. The review will be undertaken by restaurant-owners Henry Dimbleby and John Vincent, co-founders of the restaurant chain Leon. See: www.bbc.co.uk/news/education-18686339
Fish and Kids is an educational project run by the Marine Stewardship Council, designed to promote sustainable seafood in schools. Contact Ruth Westcott, ruth.wescott@msc.org, see: www.fishandkids.org
15 London Boroughs "taking at one significant steps to support sustainable fish" are: Barnet, Bexley, Ealing, Enfield, Kensington & Chelsea, Hammersmith & Fulham, Hounslow, Kingston-upon-Thames, Lambeth, Lewisham, Newham, Sutton, Waltham Forest, Wandsworth, Westminster.
7 London Boroughs "not yet taking significant action to support sustainable fish" were: Brent, Croydon, Hackney, Haringey, Harrow, Hillingdon and Southwark.
Read the London 2012 Food Vision at: www.london2012.com/documents/locog-publications/food-vision.pdf. Read more about London 2012's sustainable fish commitments and the important influence that this is having on catering standards at: www.sustainweb.org/sustainablefishcity/news_olympic_fish/. See the website of the Food Legacy programme website at: www.foodlegacy.org, which encourages more caterers to follow the healthy and sustainable food standards adopted by London 2012.
See a full list of Sustainable Fish City pledge signatories at: www.sustainweb.org/sustainablefishcity/whos_working_on_it/