Sustainable fish & chips, a fitting legacy for the London 2012 Olympic and Paralympic Games
27/07/2012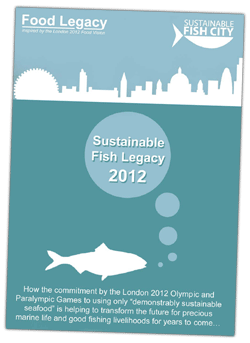 According to a report published today, on the eve of the London 2012 Games, London 2012's sustainable fish policy [2] has already inspired a fabulous fish legacy for years to come, as long-term sustainable fish policies have been adopted by caterers that together serve well over 100 million meals a year. Sustainable fish and chips will also be a top feature of the London 2012 Olympic menu, thanks to London 2012's commitment to be "the greenest Games yet" [1].
"When we visited the Olympic Park this week, we were absolutely delighted to see sustainable fish and chips on London 2012 menus," said Jon Walker, coordinator of the Sustainable Fish City campaign, which aims for London to become the first city in the world to buy, sell and eat only sustainable fish [3]. "Inspiring events such as the Olympic and Paralympic Games play a hugely influential role in proving what can be done, and on an international stage. We commend London 2012 for using their buying power to help secure a sustainable future for fish, marine environments and good fishing livelihoods for years to come."
The Sustainable Fish City campaign report, Sustainable Fish Legacy 2012, charts the remarkable sustainable fish commitments inspired by the London 2012 Games, and how these have been achieved. Success stories include pledges to use sustainable fish by:
Government, for Whitehall, Number 10, HM Prison Service and the Armed Forces. [4]
The London Metropolitan Police, Fire Brigade, Transport for London and City Hall. [5]
Several London boroughs, including Camden, Havering, Islington and Richmond. [6]
19 leading universities, serving well over 200,000 staff and students. [7]
Very large caterers, including the country's second largest contract caterer Sodexo, as well as BaxterStorey, ISS Food and Hospitality and Restaurant Associates. [8]
Many chefs and restaurants, including popular high-street chains such as Carluccio's, well-loved independents and Michelin-starred establishments. [9]
Tourist attractions such as the National Trust, the Zoological Society of London (which runs London Zoo), the SeaLife Aquarium and the restaurant at the Royal Albert Hall. [10]
3,500 schools participating in the national Food for Life Catering Mark programme. [11]
Blue-chip businesses who commission or provide very large volumes of catering, including London 2012 sponsors Thames Water and Coca-Cola GB. [12]
"Together, caterers that serve well over 100 million meals a year have adopted the London 2012 sustainable fish standards," said Kath Dalmeny of Sustain. Kath was also a member of the London 2012 Food Advisory Group, and in 2009 chaired the group that devised the sustainable fish standard. [13] "This is impressive progress, but there's still a long way to go. All organisations that buy catering services for meetings and events should adopt a sustainable fish policy. It's easy, affordable, and is a worthy legacy for London 2012."

Order a PDF version of Sustainable Fish Legacy 2012
Press contacts: Jon Walker or Kath Dalmeny, 020 7065 0902; email: jon@sustainweb.org or kath@sustainweb.org
---
Notes to editors