Good food set to take centre stage at UK festivals
24/08/2012
Festival organisers across the UK are being challenged to serve up delicious, healthy and sustainable food to festival-goers, with the launch of a new Good Food for Festivals Guide [1], published by the food and farming charity Sustain [2].
The guide has the backing of organisations including A Greener Festival, Julie's Bicycle, and the environmental campaign group Greenpeace, as well as festivals Bestival, Waveform and The Green Man. The guide – the first of its kind – provides issue-by-issue advice on tackling the sustainability of food and drinks served by mobile caterers. It covers the benefits of going local and seasonal, higher-welfare meat and dairy, sustainable fish, reducing waste and water use, as well as how festivals and events can celebrate their good food credentials. The guide also includes a checklist for organisers to give potential traders, to see how their food measures up environmentally.
"We've seen many festival organisers take inspiring steps to promote sustainability, from pedal-powered mobile phone-charging stations, to bottled water bans, water re-filling stations, compostable pint glasses, and post-event tent salvage efforts," said Kelly Parsons, who runs Sustain's Ethical Eats catering network [3]. "Now it's time to banish gristly burgers, dodgy hotdogs, and gloopy chow mein and get thinking with our taste-buds. People are asking more and more questions about what they are eating, and increasingly making purchasing decisions based on ethical and environmental considerations. Given the massive choice of festivals to choose from in the UK, going big on good food has clear benefits for a festival's credibility, reputation and overall appeal to festival goers."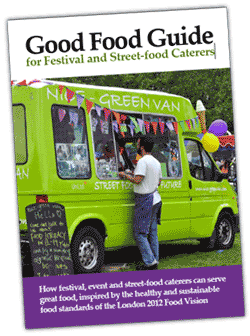 Ben Challis, co-founder of A Greener Festival [4], which supports event organisers to improve their environmental efficiency, said, "This clear and relevant set of guidelines is an important step forward and will be a massive help to festival organisers and others involved with live events."
Bob Wilson, Events Co-ordinator for the environmental campaign group Greenpeace, said, "At last a guide that raises the bar for everyone involved in outdoor catering. It contains a wealth of well-researched, practical information which if implemented will revolutionise both the quality and appeal of food at festivals."
The Good Food for Festivals Guide includes inspiring case studies of what can be achieved on good food, from leading annual events such as Glastonbury Festival, Latitude, Shambala and the Thames Festival [5]. To accompany this publication, Sustain has also produced a Good Food Guide for Festival and Street-Food Caterers, which provides practical advice on how mobile caterers supplying festivals can make their eats more green and ethical. This also includes inspiring case studies from green street-food pioneers such as Sarah Moore, Street Kitchen and Squid & Pear [6].
---
Notes
The Good Food for Festivals Guide, and the Good Food Guide for Festival and Street-food Caterers have been jointly produced by two Sustain projects – 'Ethical Eats' and 'Food Legacy, inspired by the London 2012 Food Vision' – in partnership with A Greener Festival. The guides provide practical advice to festival organisers, and mobile caterers, on how to implement positive changes to their food and drink. The guides are free to download at: http://www.sustainweb.org/ethicaleats/campaigns/.
Sustain: The alliance for better food and farming advocates food and agriculture policies and practices that enhance the health and welfare of people and animals, improve the working and living environment, enrich society and culture and promote equity. Sustain represents around 100 national public interest organisations working at international, national, regional and local level. See: http://www.sustainweb.org
Ethical Eats is a network for restaurants and caterers across the capital interested in sustainability. It is part of the London Food Link network, part of the charity Sustain, and is funded by the Big Lottery's Local Food Fund. See: www.ethicaleats.org. Twitter: @ethicaleats.
Ethical Eats also works in partnership with Food Legacy, which aims to help more caterers, restaurants, hospitality and events organisers – in the private and public sectors – to achieve the ambitions of the London 2012 Food Vision, which sets health and sustainability standards for food served at the London 2012 Olympic and Paralympic Games. The Food Legacy programme involves many caterers, suppliers and sustainable food groups and is coordinated by Sustain. See: www.foodlegacy.org. Twitter: @Foodlegacy2012.
A Greener Festival is a not-for-profit company committed to helping music and arts events and festivals around the world adopt environmentally efficient practices. The A Greener Festival Award was set up in 2007 and has been growing each year. See: www.agreenerfestival.com.
Festivals that feature as inspiring case studies in the Good Food for Festivals Guide include: Shambala, Waveform, Green Man Festival, Glastonbury, Latitude, Sunrise, Thames Festival, London Green Fair, Bonaroo, Grassroots Eco Music Festival, Reading/Leeds and Fusion Festival.
Mobile caterers that feature as inspiring case studies in the Good Food Guide for Festival and Street-food Caterers include: Street Kitchen, Healthy Yummies, Tongue 'n Cheek, Tea and Toast, Squid & Pear, Sarah Moore Artisan Catering and Poco Loco/Poco Morocco.