Community Food Growing
What are London Boroughs already doing for community food growing?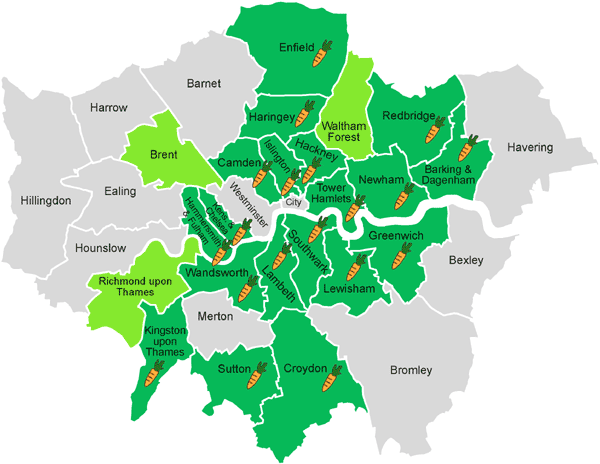 | | |
| --- | --- |
| | Borough committed to creating food growing spaces with Capital Growth |
| | Borough making good progress towards making a Capital Growth commitment |
| | Borough not yet making significant progress towards a Capital Growth commitment* |
* Let us know if you think things have improved in your Borough. We will update the map as more action happens
Capital Growth is seeking a commitment from each borough that new community growing projects will be supported and so far, 19 borough councils out of the 33 have signed up. To reach the 2,012 target this means, on average, that each borough needs to commit to supporting 60 new spaces. We appreciate that for some this may be too many, in which case we work with the council to identify a more realistic target. However, some (such as Camden, Hackney, Islington, Lambeth, Southwark and Tower Hamlets) have committed to creating over 70 community food growing spaces each.
What can London Boroughs do? Sign up to support Capital Growth.

Contact Sarah Williams or Seb Mayfield, tel: 020 7065 0902; email: sarah@sustainweb.org or seb@sustainweb.org; website: www.capitalgrowth.org

Download a high-resolution version of the above London Borough map of progress on community food growing [750kb jpg]. This can be reproduced in other publications, but please check with us first (email: kath@sustainweb.org) - we would like to be sure that this work is reported accurately, and to keep track of who has seen or promoted this. Thank you!