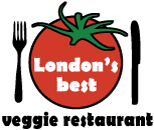 London's best veggie restaurant
The results of our latest competition are in! For more details see our
Vegging out in London article
.
Winner
Riverside Vegetaria
Highly commended
Mildred's, Kingston
One to watch
Karma Free Pizza, Rayners Lane
Greenwich top of the university tree
Greenwich University has come top of People & Planet's Green League. Last year, the university sold honey from its own beehives. At its Avery Hill site there are now raised beds for veg on an old sports field, and a new orchard. And it brought its caterers together with Sustain to create sustainable menus, allowing them to buy free-range eggs and organic milk economically. Takings have since gone up by 16.8%. Greenwich achieved the highest ever score – 55 out of a possible 70 points – and moved up from fifth place last year. http://peopleandplanet.org/greenleague
David vs Goliaths
The Jellied Eel was excited to be one of three finalists for the very first Guild of Food Writers 'Food Magazine' award, beating lots of major glossies. The jury said 'this quirky little magazine is an extremely good read … refreshingly different, informative and unbelievably, it's free. … a move away from some of the more aspirational 'lifestyle' magazines'. They summed up: 'A fascinating publication full of interesting snippets and a welcome change from more formulaic offerings'. Not bad eh?
Fairtrade in the city
This year's London Fairtrade Guide 2012, a handbook on all things Fairtrade in the capital, is available to download at http://fairtradelondon.org.uk. Also out now as an iPhone app is the Good and Green Guide to London at www.goodandgreenguides.com, where you can buy the published guide book too.
Global Growers in the Garden Classroom
Global Growers, at King Henry's Walk Garden, is recruiting for eight new Islington primary schools to join the project in the autumn. The project shows teachers, school staff and volunteers how to use school growing spaces to embed food growing in the curriculum and teach sustainable food issues. Each school receives teaching materials, training, workshops and hosts a community celebration event at the end of the year. Interested schools should email Rohan Knox at rohan@thegardenclassroom.org.uk. www.thegardenclassroom.org.uk, @globalgrowersuk
The Big Dig goes national
With its new funding from the government's Social Action Fund, the Big Dig will get people growing food together in six cities across England. Run by Sustain and several partner organisations, the project provides advice and training to volunteers, helping them to create vibrant community food gardens. It builds on Capital Growth's success helping over 60,000 people in London to get involved in community food growing. It will work with established community growing spaces and develop new sites, and aims to attract volunteers from communities who traditionally do not volunteer. There will be open days and events to encourage people to get down to their local growing site. www.bigdig.org.uk, @thebigdiguk
Local to Leytonstone
Organiclea has teamed up with Transition Leytonstone to sell ultra-local sustainably-grown fruit and vegetables, and UK-grown certified organic produce, on a community market stall in Leytonstone on Saturdays from 11am-3pm. Follow the seasons by what's appearing on the stall every Saturday at St John's Church, Church Lane (between the church and Matalan, just off the High Road). www.organiclea.org.uk
Farmers' market at The Railway
After a trial during Streatham Food Festival, The Railway in Streatham is now hosting a monthly farmers' market. There's lots of organic meat and veg from the Gill Wing Farm in East Sussex, as well as freshly baked bread, pastries and sausage rolls, handmade British cheeses and biscuits, muffins and scones. The Wren Cakes stall made its first appearance in June, as did Fish Tale, offering fish, olives and tapenades. 10am to 4pm on the second Saturday of every month. www.therailwaysw16.co.uk
Open all hours
Both Borough Market and the Real Food Market at the Southbank Centre are celebrating the Olympic Games by opening seven days a week. For details see www.boroughmarket.org.uk and www.realfoodfestival.co.uk
Spa pops up in Barking
This summer the people behind Dalston's FARM:shop have been commissioned by arts agency CREATE to design a spa/bar/social space in Barking town centre. Opening on 20 July, visitors to The Barking Bathhouse will sip healthy cocktails under a canopy of growing cucumbers and sunbathe in seaside-inspired pebble bays. The project designers are working with local allotment gardeners, whose fresh produce will be used in both the spa treatments and the smoothies and cocktails in the bar. www.createlondon.org