Arcola Theatre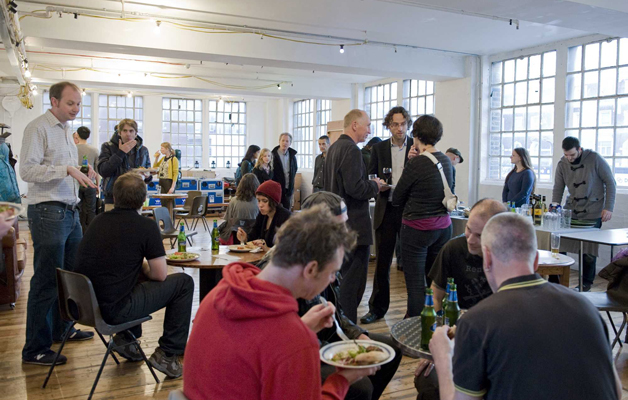 Starting up a new theatre space with limited resources in a former East End factory meant that founders, Mehmet Ergen and Leyla Nazli, took the reuse-recycle mantra to heart. But not all arts organisations embrace sustainability like the Arcola Theatre in Dalston. The appointment of Ben Todd as Executive Director, bringing engineering expertise and a passion for renewable energy, was a new catalyst. He saw the potential to create a carbon neutral theatre, to inspire the community and to embed sustainability in the arts. Finally Feimatta Conteh, Sustainability Projects Manager, joined this pioneering arts venue to coordinate the 'Green Arcola' vision through 'greening' the venue, its professional productions, creative learning and community engagement.
Arcola recycled Olympic site material to insulate the Tent – a pop-up venue on derelict council land; helps manage the green oasis that is the Dalston Eastern Curve Garden – a Growing Communities veg box pick-up point; organises quarterly, themed 'Green Sundays', which mix fun, creativity, performance and sustainability; challenged local schools to make and race mini-hydro powered cars; and advises arts organisations on integrating sustainability, for example by adopting sustainable production guidelines – sourcing recycled and reused props, using rechargeable batteries, and low carbon lighting. And the theatre's cafe is stocked with Fairtrade and organic produce, including Whole Earth soft drinks, Luscombe juices and ciders, organic spirits, and snacks provided by Goodness Foods. Open from 10am until after the shows finish.
www.arcolatheatre.com and www.futurearcola.com
By Nadia Mackenzie
The Jellied Eel would like to thank Arcola Theatre and its staff for their continued support.
Are you a shop, restaurant, café, trader or community centre with sustainable food at its heart that wants to help us in spreading the word around London? Then get in touch with
thejelliedeel@sustainweb.org
about stocking the Jellied Eel.
Issue: 35 | Date published: 12/04/2012