London's best boroughs for good food
Ben Reynolds explains why Islington and Richmond are top of the league for good food, while Brent, Lewisham and Westminster lag way behind.
The London Boroughs of Islington and Richmond-upon-Thames have been praised for 'inspiring food leadership', for their work to promote healthy and sustainable food, in the first ever audit of local authority food-related activities in the capital.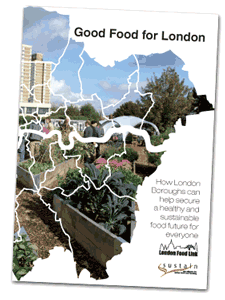 The Good Food for London report, published by London Food Link, includes maps comparing London Borough progress on key food issues, and highlights how top scorers Islington and Richmond-upon-Thames are supporting community food growing, improving school food, helping residents reduce food waste, encouraging local food outlets to use healthier ingredients, and buying ethical food in schools and local authority canteens, including Fairtrade products, free range eggs and sustainable fish.

Eight more Boroughs out of the total of 33 were praised for 'making excellent progress on key food issues' - Camden, Croydon, Enfield, Greenwich, Merton, Sutton, Tower Hamlets and Waltham Forest - achieving progress on all or most of the key food activities surveyed. Meanwhile, six Boroughs were highlighted as 'lagging behind disappointingly on action to support healthy and sustainable food'- Bexley, Brent, Hillingdon, Lewisham, Newham and Westminster.

"London Boroughs have a highly influential role to play in ensuring that the food we eat is safe, healthy and good for farmers and the planet," said Kath Dalmeny, policy director of Sustain, the alliance of food and farming organisations. "If all London Boroughs took the simple, affordable and effective action that we surveyed, it would significantly improve the health and well-being of Londoners, the livelihoods of farmers and other food providers, and the sustainability of the food system on which we all depend. So we were dismayed to find such huge differences between London Borough Councils and their support for healthy living and ethical food."

However, she also added that while there is scope for London's Boroughs to do much more, particularly to promote local and sustainably produced food, and to tackle childhood obesity, that "it is inspiring to see almost a third of London's Boroughs have taken significant steps towards improving the city's food system".

The Good Food for London report, containing seven maps comparing progress on key food issues by London Boroughs, has been sent to all 33 Heads of London Councils, local planning authorities and health, environment and procurement departments. It will be accompanied by offers of support by a range of charities and food experts, to help London Boroughs rise to the good food challenge. The audit will be repeated early in 2012 to track progress, with additional measures planned, for example to look at uptake of school meals, support for families living on a low income to buy good food, promoting good food in planning policy, use of real bread, help for local shops and markets, improving hospital food, and promoting a bee-friendly environment.

Maps can be downloaded online at: http://www.sustainweb.org/londonfoodlink/good_food_for_london

How does your Borough score?
Top scorers were Islington (7 points) and Richmond-upon-Thames (6).
Making excellent progress were Camden (5.5 points), Croydon (6 - noting that Croydon Council's school meal service is changing, so this score may change shortly), Enfield (5), Greenwich (5.5), Merton (5.5), Sutton (5.5), Tower Hamlets (5) and Waltham Forest (5.5).
Lagging behind were Bexley (1.5 points), Brent (2), Hillingdon (0.5), Lewisham (2), Newham (2) and Westminster (1.5).
All other London Boroughs scored between 2.5 and 4.5 out of a total possible 7 points.
Issue: 33 | Date published: 21/11/2011
You are viewing articles from
Jellied Eel 33
. To see items from other editions please select from the menu below.
Other articles from 'Feature'

Londoners call for less food waste
Seventy-nine per cent of Londoners want to see businesses in the capital reduce their food waste, a survey by ethical eating magazine The Jellied Eel has revealed.

Cleaning up London's leftovers
Kelly Parsons hears from the campaigners hoping to tackle the cityís bad food waste habits

An Idle Husband
Earlier this year Tom Hodgkinson, Editor of the Idler journal, turned his attention to husbandry with his book Brave Old World, which offers a leisurely stroll through the seasons

Articles from other issues
This little piggy ate food waste (41)
Unwrapping a food parcel this Christmas (41)
Recipe: Seasonal Shoreditch squash strozzapreti (41)
Rekindling an urban love affair (40)
Flounder and chips (40)
Shops for cooking weíre overlooking (40)
Recipe for revitalising food (39)
The butcherís banger (39)
Thin end of the veg? (39)
Map of Londonís breweries (39)
The Hunger Game (38)