Walthamstow farmers market
Town Square by Selbourne Walk Shopping Centre
Walthamstow E17 7JN
Every Sunday 10am-2pm
Find out more
Every Sunday Walthamstow street market makes way for Walthamstow farmers market. The exotic variety during the week is dazzling and most things come in at a 'pound-a-bowl', but visit on a Sunday and you'll find food that's been locally sourced and sustainably produced. And the range of choice is still impressive, from Cambridgeshire pak-choi to fresh organic bread and Caribbean-style vegan puddings.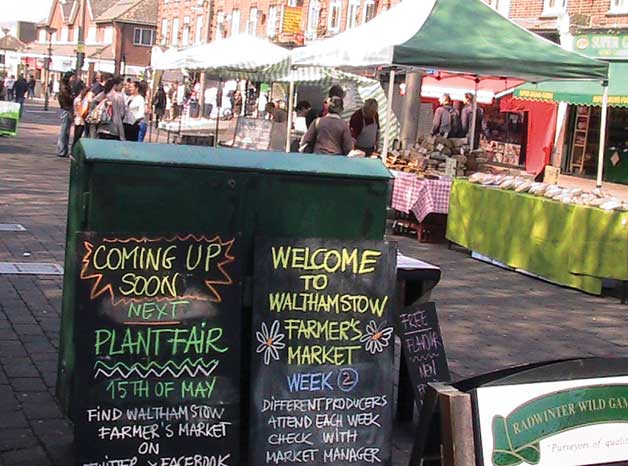 Waltham Forest isn't an affluent borough and farmers' markets can be perceived as meaning higher prices. Market manager Sophie Bugeaud admits: "we've got a good core of faithfuls but it's been tough attracting new customers," she says, an ASDA sign looming large in the distance. But, slowly, it's happening. "People are realising if they spend two pounds more they'll get a chicken that hasn't been battery-farmed, and actually tastes of something" Sophie adds.
The Ted's Veg stall runs the width of the market. Piled high, the variety is huge (there's even jars of fresh horse-radish) and everything is home grown. Seafayre is the family-run fish stall. The catch is normally freshly-caught the day before, and because changes in the weather mean the catch can vary, they send out an email letting their customers know what they're bringing up from the Kent coast each week. There's almost always a queue. Northfield farm is another favourite: its un-plucked pheasants were a particularly big draw during the winter.
The stallholders are proud of the progress being made at the market, "We're all really fond of this one - it's a real community market without any pretentiousness," says Sophie. "There is education going on. If we weren't here lots of our customers wouldn't be getting this kind of quality, so we're making them take notice of us." The signs are that it's paying off and encouraging people to think not just about nutrition, but also the environmental implications of production. "Most of the older customers you talk to had vegetables growing in their parents gardens,'' Sophie explains. "We may have lost two generations to the supermarkets, but people want to connect again, and if they don't have the space to grow their own potatoes they want to talk to the person who has."
Alham Wood Organics
Alham Wood Organics has been running a pitch since the market began. It specialises in raw buffalo yoghurt and cheeses, made using traditional Romanian recipes. The farm is located in the West Country and now has a stock of over 200 buffalo, a Romanian breed first brought over in 1997. Organic certified in 2000, it now sells to both restaurants and markets. Maria Staich is here selling at Walthamstow every Sunday. "We used to come fortnightly but now it's worth coming every week" she says. "The yoghurt does very well, partly because of the large Bengali community around here who use it a lot in cooking." The buffalo mozzarella is also popular, and as customers' confidence in the quality grows, so does their willingness to try the more unusual flavours, Maria explains. "People tend to start with the young, mild cheeses and work their way up to the stronger ones!"
By Flo Neve
Issue: 31 | Date published: 17/05/2011
You are viewing articles from
Jellied Eel 31
. To see items from other editions please select from the menu below.
Other articles from 'To market'

Partridges Food Market, Chelsea
Given its Chelsea location it's easy to imagine a market that's all cup cake and no substance. But while the produce on sale is grown up, there's also a focus on sustainability.

Queens Park farmers' market
Walking into the market, you are struck by the range of produce. One customer summed it up nicely as offering 'everyday food, with something for the weekend too'.

Articles from other issues
Stoke Newington Farmers' Market (40)
Herne Hill (38)
West Hampstead farmers' market (37)
Parsons Green Farmers' Market (36)
Brockley (35)
Bloomsbury Farmers' Market (34)
St John's Wood Farmers' Market (33)
London Fields (33)
Archway Market (32)
Acton market (29)
Golborne Road (29)