Reducing water use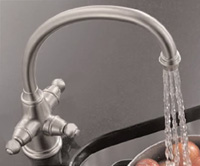 Water demand has increased dramatically over the past quarter of a century, and we now use half as much water again as we did in 1980. This is a result of changes in lifestyles and many more water-using appliances.
We need to use water more efficiently for several reasons – not simply because water resources are finite (a good enough reason in itself!). For example, water purification is a major user of energy, which contributes to climate change. In itself, climate change means we can expect longer, drier spells and more unpredictable weather, with greater risk of droughts and water shortages. We should therefore all do our bit to use water more wisely, and that includes in food production.
You can help to reduce wasteful use of water:
The London 2012 Games organisers have committed to using natural resources more sustainably. You can too! Sign up to the Food Legacy pledge. The focus is food, so it does not address water use directly, but it does ask you to reduce food waste and to use food with environmentally friendly production standards, which will help a great deal with water efficiency throughout the food chain.
Train your staff to buy water-efficient equipment use less water and water-polluting chemicals by sensible use of cleaning materials and equipment, turning off taps and installing water-saving devices. Such measures may also save you money. Also use environmentally-friendly and biodegradable cleaning materials. Find out more about good food training - some of these training schemes cover water efficiency in the kitchen.
For specialist advice on water efficiency, contact Waterwise, which provides information about saving water - www.waterwise.org.uk and the Water Guide: www.water-guide.org.uk/tips.html or join a specialist catering support organisation such as the Sustainable Restaurant Association.
---
What is healthy and sustainable food?
Follow the links below, to find out about support or advice to help turn good food ideas into action: