Reducing food waste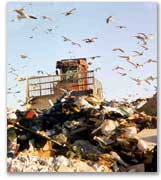 We throw away a shocking 8.3 million tonnes of food every year, most of which could have been eaten. That's about one third of the food produced. However much energy is has been used to make food and its packaging, all of it is wasted when it is thrown away. Food waste is also usually wet and rots, so when mixed into other waste, it spoils materials that could otherwise have been recycled and gives off gases that contribute to climate change.
Food makes up a high proportion of the waste from manufacturing, catering and retail outlets. Fruit, vegetables and salads make up nearly a fifth of the waste by weight from supermarkets, for example. Figures for the catering sector are harder to estimate, but it seems likely that the figure is similar or perhaps even more.
WRAP estimates that the hospitality sector could save £724 million per year by tackling its food waste. See the WRAP hospitality and foodservice page for more information.
Help reduce food waste and reduce greenhouse gas emissions
The London 2012 organisers have committed to diverting waste away from landfill, and adopting the waste hierarch of "reduce, reuse and recycle". So can you! Sign up to the Food Legacy pledge and make a commitment to adopting a food waste reduction strategy.
Sign up to the new Food Waste Hierarchy and make a commitment to reducing food waste. Click on the picture below to find out more.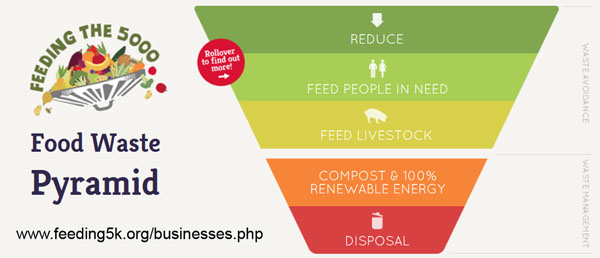 Train your staff to cut down on food waste by planning menus and portion-sizes to make the best use of the food you buy, to use up leftovers, and to get creative with what you've got. Don't be fooled by the cosmetic appearance of fruit and vegetables. Use blemished fruit and vegetables and riper fruits that might otherwise go to waste. They should also save money. And putting soup on the menu is an easy and tasty way to use excess vegetables, and to cater for seasonal variations. Find out more about good food training.
What the London 2012 Games organisers say about waste in their Sustainability Plan (February 2010): "To be a catalyst for new waste management infrastructure and demonstrate exemplary resource management practices. This will be achieved by minimising waste at source, diverting construction waste wherever feasible and all Games-time waste away from landfill, and promoting the waste hierarchy of 'reduce, reuse, recycle' to facilitate long-term individual behavioural change."
Serving tap water rather than bottled water or sugary drinks is good for health, and also for the environment by reducing packaging waste. Click on the links below for organisations that can help you publicise the fact that you make tap water freely available to your customers:


---
What is healthy and sustainable food?
Follow the links below, to find out about support or advice to help turn good food ideas into action: