Fairtrade wine heads for the London 2012 Games
07/03/2012
Thousands of miles away from London's new multimillion-pound Olympic Park poor farmers in South Africa are banking on their own success from the 2012 Games.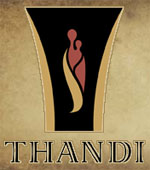 Thandi Wines, which in 2004 became the first Fairtrade winery in the Cape, is set to be part of the world's largest peacetime catering operation when the Games begin. More than 14 million meals across 40 locations are set to be served at London 2012. Organisers have pledged to provide the widest choice and to set new standards in sustainable sourcing of food.
For the workers on the sun-baked farms who will be supplying Fairtrade bananas, tea, coffee, sugar and chocolate, turning these lofty ambitions into a reality is not just about cold hard economics - it is also about community and pride. Jan Skippers was born and brought up on the Thandi estate, working his way up from his first job as a tractor driver to assistant manager. "It is a big thing to see that our food is coming from South Africa to the UK," he said."Then sitting in my home I can say 'with these two hands I have grown that. With these two hands I have helped Thandi'."
It means that now other people can see our needs and with that they can help us to grow. We must stand together here like a community and we help each other."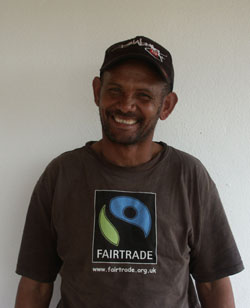 He is showing British javelin thrower Goldie Sayers, 29, who came fourth at the Beijing Olympics, around Thandi during a break from warm weather training. Food and Fairtrade, which seeks to secure fair terms of trade and local sustainability for farmers and workers in the developing world, is "my passion", Sayers said. "Literally all I spend my money on is food."
She watched a lively Sunday service, visited the creche and looked around the housing village which has been bolstered by money that has been ploughed back into the community.
Cambridge-born Sayers said: "The benefit of being an athlete is that you get to travel and, I think, get perspective that others may not have. "Coming to South Africa now you realise that the rest of the world is not necessarily as fortunate as us in many ways." Her interests stems from food, diet and eating well. She said: "It might sound strange but I did not eat a shop-bought vegetable until I was 15. It was just because my dad used to grow them. I thought that was the norm. I know the benefits of eating well and also if you can support other people in eating well then that has got to be good."
Commercial progress is slow for farm workers in post-Apartheid South Africa, according to Thandi general manager Vernon Henn. They suffer low wages, lack of job security and employment benefits, and unsafe and difficult working conditions. There are also high levels of worker illiteracy, poor-quality housing and limited trade unionism in commercial agriculture. Seasonal and contract labourers are also often denied statutory employment benefits and formal contracts. In these circumstances Fairtrade has been welcomed in a competitive market, Mr Henn suggests.
He said: "It gives us a platform so that we are able to sell wine meaning we have got bigger profits and can make a difference to the lives of Thandi people. They are about 250 families, all of whom are relatively poor."
Thandi has 55% black ownership consisting of 250 families over three farms in which they have a majority ownership. Mr Henn said: "The aim was that by 2014 everything was supposed to be even and level so that we are not talking about black and white any more.
"It is a a big deal and people here get it. The message abroad is about Fairtrade. "The quality of the wine is what people really take notice of."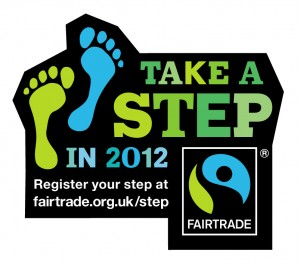 The huge catering operation for London 2012 is one of the cornerstones of the organisers' promises that it will be the greenest Games yet. More than 15,000 athletes will have to be fed. More than 25,000 loaves of bread, 232 tonnes of potatoes, 82 tonnes of seafood, 31 tonnes of poultry, 100 tonnes of meat, 75,000 litres of milk, 19 tonnes of eggs, 21 tonnes of cheese and 330 tonnes of fruit and vegetables will be needed to do this. The football pitch-sized food hall inside an Olympic Village is a huge mix of cultures, faiths, styles and tastes meaning you can go from Asian to Mediterranean, Kosher and a salad bar and McDonald's.
Sayers said: "It is obviously free because McDonald's are a sponsor. It is totally empty at the start of the two weeks and then because it is the end of peoples' season, it changes. Being competitive athletes people start doing challenges and things - I don't though."
The Commission for a Sustainable London 2012 watchdog body said it is "pleased" to see the Fairtrade standard being used as the benchmark for all tea and coffee supplied at the Games.
McDonald's uses Rainforest Alliance-certified tea and coffee. Some of the differences are that the Rainforest Alliance allows a product to be certified to the standard when only a certain percentage of the product comes from certified sources and Fairtrade requires a premium to be paid that is invested by and for the local community. The commission suggests this "presents a reputational risk" for London 2012 and McDonald's if some products are seen as not meeting the equivalent standard.
So do the producers care about whether the athletes and spectators at the London 2012 Games know the story behind how their food got from South Africa to their plates? Carol Maggs, of Fairview wines and tea, said: "Yes, it goes back to the pride we have in the product and the pride is part of the people who are making it. If people are drinking it then they will have the chance to learn."