Join up!
Please note first of all that the Food Legacy 2012 programme is not involved with the catering contracts or food supply for the London 2012 Olympic and Paralympic Games themselves. This is the responsibility of the London 2012 organisers. Our work is inspired by, but independent of London 2012. The work of Food Legacy 2012 focuses exclusively on food supply and catering surrounding the Games, in associated events and venues, and in influencing food supply and catering standards beyond 2012.
Sign up to receive Food Legacy news (free of charge), including information about healthy and sustainable food opportunities and events.
There are also several organisations that can support caterers and events organisations to help improve the healthiness and sustainability of the food you serve. Consider joining one or more of these organisations. All of these are not-for-profit organisations. Some charge a fee for joining, and some do not.
---
Restaurants and caterers of all sizes
Food for Life Catering Mark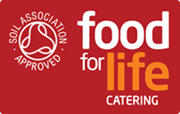 The Food for Life Catering Mark is a way for restaurants and caterers to gain recognition for good work serving food that is freshly prepared, free from undesirable additives, better for the environment, and better for animal welfare. In spring 2011, over 300,000 Food for Life award-winning meals are now served weekly in the UK. The Catering Mark is open to all types of caterer and offers three awards to recognise good practice: bronze, silver and gold. The different awards offer a step-by-step approach towards using more fresh, seasonal, local and organic ingredients, Fairtrade ingredients and sustainable fish. For caterers working with schools, there is also the Food for Life Partnership, which works to transform school food culture.
Sustainable Restaurant Association
For restaurants and caterers of all sizes (UK wide), join the Sustainable Restaurant Association. Whether you own a restaurant, pub, hotel or any other catering business; the Sustainable Restaurant Association wants to work with you. If you've always been committed to sustainability or are only just starting to think about it, they have services to meet your needs. Read about the Sustainable Restaurant Association membership and services here.
Ethical Eats network

For restaurants and caterers in London, join the informal Ethical Eats network (free of charge - funded by the Big Lottery). Through the network, businesses can share experiences, promote good practice and identify practical steps that they can take to become more sustainable. The network organises several meetings a year to tackle issues such as sustainable fish, animal welfare, energy use and waste. They also run 'meet the producer' events and visits to local farms.
Write to Kelly Parsons or Duncan O'Brien, Ethical Eats coordinators, to find out more: kelly@sustainweb.org or duncan@sustainweb.org.
---
Food outlets of all sizes, promoting British and seasonal food
British Food Fortnight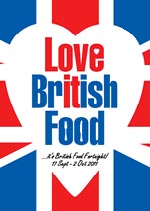 British Food Fortnight was founded in 2002 as a national celebration of British food. The British Food Fortnight in 2012 will be promoted at the Cultural Olympiad and will run at the same time as the London 2012 Olympic Games. It involves shops, pubs, restaurants and high-profile organisations promoting the best of British produce, including Wembley Stadium, Harrods, St Pancras train station, St Paul's Cathedral, the Cabinet Office, the BBC, National Trust and even Grey Gables Hotel in Radio 4's The Archers. The organisation that promotes British Food Fortnight also runs Love British Food, a membership network (with a membership fee) for businesses wanting a year-round source of support to buy, sell and celebrate British food. Find out more about membership benefits for smaller food businesses and for larger food businesses.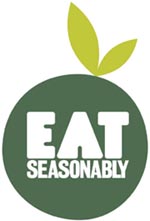 Eat Seasonably
Eat Seasonably celebrates fruit and vegetables when they are at their best. They work with partners across the food industry to raise awareness of what's in season when and help people enjoy fruit and veg in its prime: fresher, tastier, cheaper and better for the environment. Pubs, restaurants, cafés, canteens and shops can sign up (free of charge) to join a network of seasonal eateries and gain access to promotional materials.
---
Medium-sized and larger caterers
CompeteFor

For medium-sized and larger caterers (UK wide), sign up to the CompeteFor web portal (free of charge) to receive updates on tendering opportunities. CompeteFor is a service that enables businesses to compete for contract opportunities linked to the London 2012 Games and other larger public and private sector buying organisations. With a particular focus on supply chain opportunities, CompeteFor acts as a brokerage service, matching buyers with potential suppliers. It also facilitates access to focused business support, through the national Business Link network, helping to boost the long–term competitiveness of your business.
---
Catering and hospitality trade associations
Get involved with the Food Legacy programme

For catering and hospitality trade associations (but not individual businesses), we would welcome your involvement in the Food Legacy programme (free of charge, but financial contributions welcome to help run promotional events and create information materials). This is for organisations that represent a wide range of food, farming and catering businesses, as well as specialists in healthy, ethical and sustainable food. Organisations joining in with the Food Legacy programme should be prepared to provide practical assistance to improve the healthiness and sustainability of the food system by, for example, arranging events, disseminating information and participating in Food Legacy activities. If you would like to find out more about joining the Food Legacy 2012 working group, email: foodlegacy@sustainweb.org.
What is healthy and sustainable food?
Follow the links below, to find out about support or advice to help turn good food ideas into action: