Environmentally friendly food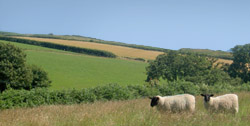 The best way to support more environmentally friendly farming is to ensure that you buy food accredited to a higher, recognised standard. Many consider organic food to be the most environmentally benign form of farming, with the LEAF (Linking Environment And Farming) Marque assuring some environmental benefits. The Red Tractor Assured standard also assures good environmental practice to above minimum UK legal standards.
Restaurants interested in speciality menus may also like to consider buying 'heritage varieties' or 'rare breed' food from native British breeds of livestock, and traditional varieties of fruit and vegetables to support genetic diversity and traditional farming practices.
Key certification schemes for food produced to higher environmental standards, which are promoted in the London 2012 Food Vision, are as follows:
For information about environmental standards for fish and seafood, see our separate page.
Use food produced to high environmental standards
---
What is healthy and sustainable food?
Follow the links below, to find out about support or advice to help turn good food ideas into action: