Animal welfare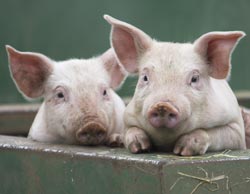 Two-thirds of consumers say they think animal welfare is an important issue, and over half of the population is currently making at least one or two purchase decisions as a result of their attitude to animal welfare standards. You can respond to these concerns by buying local or British meat produced to higher animal welfare standards, such as certified organic, free range poultry products, and RSPCA Freedom Food certified food. The Red Tractor Assured standard also assures good welfare to above minimum UK legal standards.
Restaurants interested in speciality menus may also like to consider buying 'rare breed' meat from native British breeds of livestock, to support genetic diversity and traditional farming practices.
Support high standards of animal welfare
---
What is healthy and sustainable food?
Follow the links below, to find out about support or advice to help turn good food ideas into action: